Amazon Kindle for iPhone App Now Available From App Store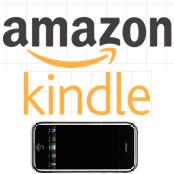 Amzon Kindle for iPhone App for iPhone and iPod touch is now available from the Apple App Store in more than 60 additional countries. The Kindle for iPhone App features Amazon's Whispersync technology that saves and synchronizes a customer's bookmarks across their Kindle devices and Kindle cross-platform applications, which include Kindle for iPhone and iPod touch, Kindle for PC, and in the coming months, Kindle for Mac and Kindle for Blackberry. You can read a few pages on your Kindle, a few more pages on your Kindle-compatible device such as an iPhone and never lose your place.  

Kindle for iPhone App enables its users to :

Purchase, download and read hundreds of thousands of books available in the Kindle Store.

Read the beginning of books for free before they buy.

Add and automatically synchronize bookmarks and last page read.

Access their library of previously purchased Kindle books stored on Amazon's servers for free.

Choose from six different font sizes and adjust words per line.

Add and view notes and highlights marked on Kindle and Kindle DX.

Read books in full color including children's books, cookbooks, travel books, textbooks and graphic novels.