Tata Photon Plus entered into marketing alliance with AVATAR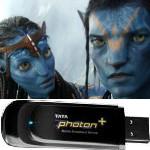 Tata Photon Plus, mobile broadband service of Tata Teleservices Limited has entered into a strategic marketing alliance with James Cameron's forthcoming Adventure epic Avatar.

This is the first time that Tata Photon+ is associated with a big ticket Hollywood project on such a large scale. AVATAR has been made using the proprietary fusion digital 3-D camera system developed by James Cameron and cutting-edge photorealistic CGI.

Speaking on the association, Mr. Trivikram Thakore, Vice President, Marketing Communication, Tata Teleservices Limited said, "We are very please to associate with Avatar, which is a blend of live-action and new virtual photorealistic production techniques.Avatar and Tata Photon Plus signifies the excellence in technology and innovation and will take the experience to a different level."

Tata Photon+ users will get a chance to win exciting AVATAR merchandise on purchase of Tata Photon+. During the period, Photon+ would be sold in special Avatar packaging.