Amazon is on a launch spree and along with the upgraded Kindle Fire and the Kindle Fire HD 7 tablet, the company has also announced the launch of a larger 8.9 inch Kindle Fire HD for prospective users.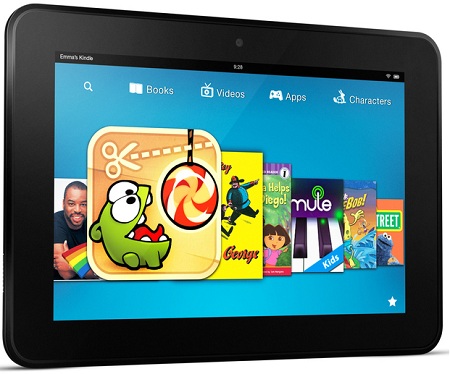 The Kindle Fire HD 8.9 as the name suggests arrives with a large 8.9 inch display with a resolution of 1920 x 1200 pixels and pixel density of 254ppi.

The Kindle Fire HD 8.9 also includes an HD front-facing camera, HDMI output, Bluetooth connectivity, and a laminated touch sensor for better visuals and 25-percent less glare.
 
The 8.9 inch Kindle Fire HD is powered by a Texas Instruments OMAP 4470 processor which is said to outperform the Tegra 3 processor when it comes to performance.
 
Amazon's new tablets are now running on a forked version of Android 4.0 Ice Cream Sandwich which seems to be awesome! The larger tablet also arrives with stereo speakers, Wi-Fi networking with a dual-band 2.4GHz/5GHz receiver, two antennas and MIMO radio technology.
 
The Wi-Fi-only models will come in 16GB and 32GB variations, while the 4G LTE will be available with 32GB or 64GB of storage.
 
The 16GB 8.9-inch Kindle Fire HD is said to cost $299, while the 32GB model is priced at $369. But if you one of those who would love 4G LTE connectivity on your Kindle Fire HD, then pricing will start at $499 for the 32GB model and $599 for the 64GB model.