It is that part of the month when Google goes on to release the report on the current distribution of Android OS share.
This shows as how many percent of devices are running on which OS and as it was expected, Android 2.3 Gingerbread OS is still the King.
The Android 2.3 Gingerbread OS now runs on 54.2% of all Android devices out there which has gone down from 55.8% of share which was reported last month. Android 4.0 Ice Cream Sandwich OS now powers about 25.8% of devices which is an increase from the 23.7% reported last month.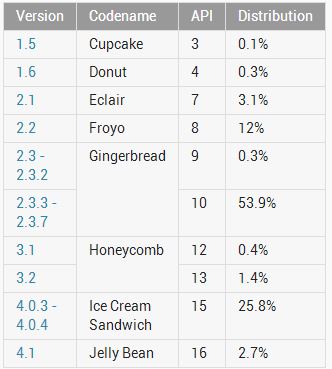 Android 4.1 Jelly Bean has seen a gain of 0.9% and now runs on 2.7% of all smartphone and tablets out there. Interestingly, Android 2.2 Froyo still has a share of 12% which is indeed huge but is down from 12.9% which was observed last month.
 
By next month, we expect the Android 4.2 Jelly Bean OS to show up in the chart as Google's new Nexus 4 and Nexus 10 devices are to go on sale later this month.
 
Which Android OS are you using?