Google generally releases Android distribution numbers in the first week of every month that reveal the total share of an Android version in the market. However, for some reasons, Google didn't release the Android distribution numbers for the month of March, and has directly released the numbers for April. Well, even April's Android distribution numbers have come in late, we are in the third week of the month, but we are glad they have been released nonetheless.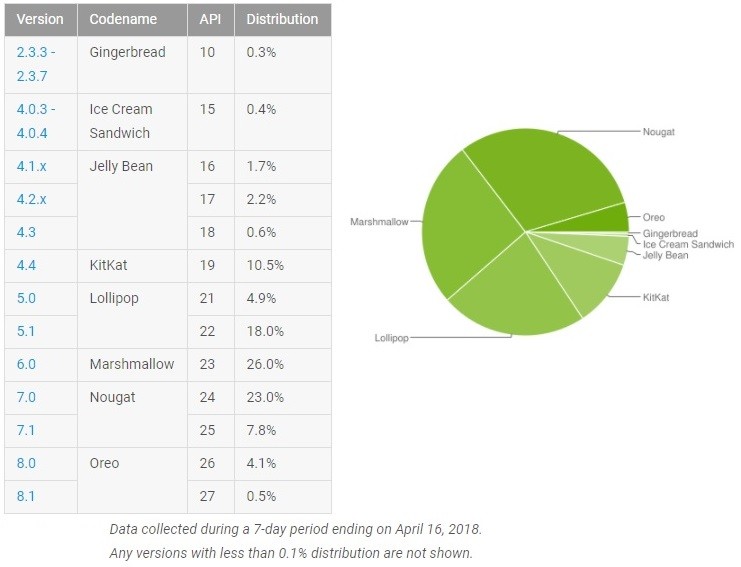 According to the the latest Android distribution numbers released by Google, Android Oreo – which was released last year in August – has made a jump from 1.1% in February to 4.6% this month. That's a cumulative gain of 3.5%.
Another version of Android that has gained more share in the distribution chart is Android Nougat. Back in February, Nougat had a cumulative share of 28.5% which has increased to 30.8% this month – an increase of 2.3%.
Having said that, apart from Nougat and Oreo, shares of all other versions of Android have dropped, except Gingerbread and Ice Cream Sandwich, that are still at 0.3 and 0.4% respectively.
To sum it up, according to April's Android distribution numbers, the Android distribution chart is topped by Android Nougat with a cumulative share of 30.8%, which is then followed by Android Marshmallow with 26%, Android Lollipop with 22.9%, Android KitKat with 10.5%, Android Oreo with 4.6%, Android Jelly Bean with 4.5%, Android Ice Cream Sandwich with 0.4%, and, Android Gingerbread with 0.3%.
Needless to say, those Android versions that have a share of less than 0.1% aren't included in the distribution chart.
Well, with more and more smartphones launching with Android Oreo, and manufacturers slowly rolling out the Oreo update for their existing smartphones, we hope Oreo will see a massive gain in Android distribution in the coming months.