Android Gingerbread running on 50% of Android devices
Google has released its monthly Android version distribution charts and according to the latest, for the first time, Android 2.3 Gingerbread has reached about 50.1% of all Android running devices. This has happened for the first time in Android's history.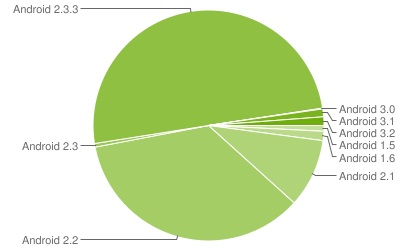 From the chart we get to know that Android 3.X Honeycomb which was released specially for tablets only covers 2.5% of all the Android devices which is indeed less. Android 2.2 Froyo is still active on over 35% of the devices. While Android 1.X is still running on about 2% of all Android devices but its extinction is sure.



With the release of Android 4.0 Ice Cream Sandwich, it is sure that Android 2.2, 2.3 and 3.X will surely see a downfall as ICS has been designed to run on both mobile phones and tablets.