Student App Development campaign by Microsoft, Win a WP Smartphone and Goodies
Microsoft has launched a special App development program for students in India called the 'i unlock joy' campaign. There are goodies up for grabs if your developed app is selected by Microsoft.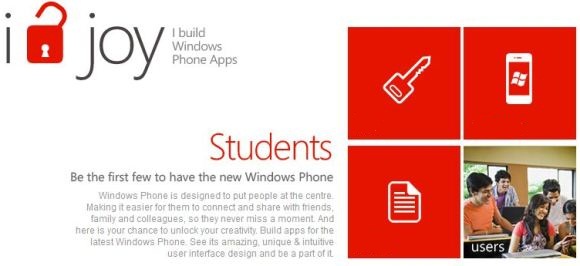 Just register for the program over here before 11th January, download the Windows Phone Developer Tools available free for students, create and submit your apps at the AppHub and you are good to go. After successful certification, your app will be listed on the Windows Phone Marketplace.
You get a Merit Certificate, a Windows Phone T-Shirt and a 2GB USB Flash Drive for 1 app published on Marketplace. If you manage to get four app you get a new Windows Phone smartphone for yourself. SWEET ! You can claim your prizes after successful submission before 26th January.
For rules and regulations and more, click here.