It is that time of the month when Google releases its report on the current distribution of the Android OS running on the million of devices out there.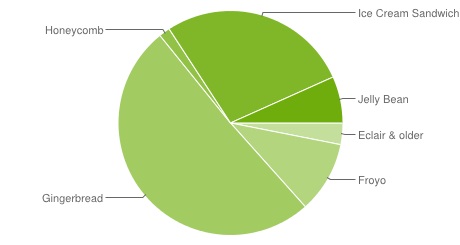 The biggest losers of the month but still the king of the Android Ecosystem is Android 2.3 Gingerbread whose share fell from 54% last month to 50.8% this month.

While Gingerbread was the biggest losers, Android 4.0 Ice Cream Sandwich and Android 4.1 Jelly Bean have been the ones who have gained a lot of share. The Android 4.0 Ice Cream Sandwich OS now powers 27.5% of all devices out there which is up from 25.8% which was reported last month.
 
The Android 4.1 Jelly Bean has seen its share get more than doubled as the new OS now runs on almost 5.9% of all Android devices and if we add the latest iteration of Android OS the Android 4.2 JB which is 0.8% then the share shoots up to 6.7% which is sweet.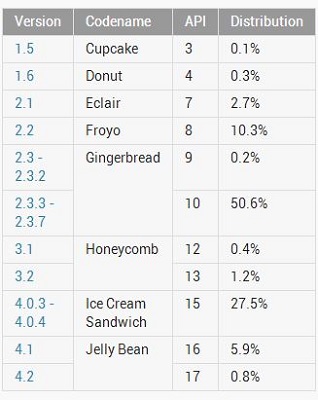 Android 3.x Honeycomb now runs on only 1.6% of all Android tablets out there while Android 2.2 Froyo is still alive with a good 10.3% of share.
As more and more Android 4.2 Jelly Bean running devices viz. Nexus 4, Nexus 7 and Nexus 10 reach into the hands of users and the holiday period beginning, the shares of the new OS and the Android 4.1 are bound to shoot up. This will also result in Gingerbread falling under the 50% mark.