It's been a couple of months since the release of Android 6.0 Marshmallow, and, there have been very few devices running the Marshmallow update. Not to forget some of the smartphones from Google's Nexus lineup, and, the Android One devices, both of which are already running the Android 6.0 Marshmallow. Well running on stock Android version does have its advantage.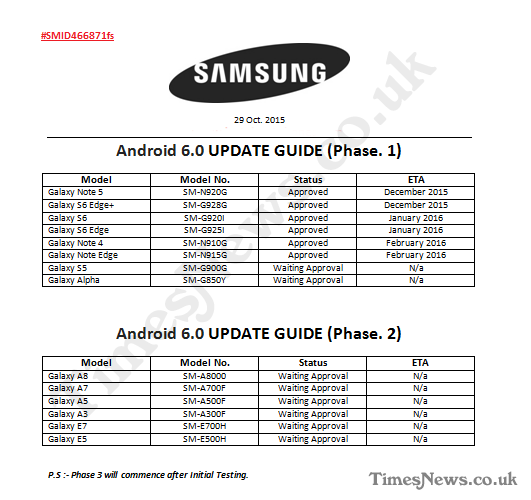 Many OEMs have announced the Marshmallow update schedule for their devices. Samsung is the latest one to join the list, though Samsung hasn't officially announced anything regarding the update schedule, but a leak shows the list of Galaxy devices that are expected to receive the Android 6.0 Marshmallow update along with the date on which they will be rolled-out to the users.
The updates will roll-out in three phases with the first one starting this December. Samsung Galaxy Note 5 (SM-N920G) and S6 Edge+ (SM-G928G) will be the first devices to receive this update in December. Followed by Galaxy S6 (SM-G920I) and S6 Edge (SM-G925I) in January 2016. Whereas, the Galaxy Note 4 (SM-910G) and Note Edge (SM-915G) will receive their updates a month later in February 2016. Talking about the Galaxy S5 (SM-G900G) and Galaxy Alpha (SM-G850Y), there isn't any information available regarding when the Marshmallow update will be rolled-out to both these devices.
Phase Two includes devices like the Samsung Galaxy A8 (SM-A800), A7 (SM-A700F), A5 (SM-A500F), A3 (SM-A300F), E7 (SM-E700H) and E5 (SM-E500H). It's unknown when the devices in phase two will receive the update. Also, those devices that are not listed above will receive the Marshmallow update in Phase Three after testing is done.
Is your Samsung Galaxy device slated to receive the update? Or you prefer using Custom ROMs? Tell us in the comments.