On Monday, we shared with you the Android Marshmallow update roadmap for Samsung's Galaxy devices. Now today again, one more update roadmap has been leaked, and this time it's different than the one we shared with you before.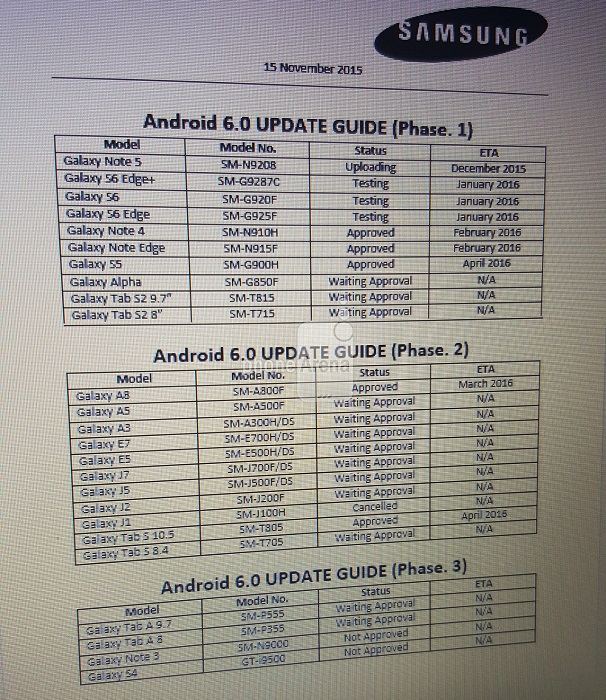 We saw in the first leak that the Android Marshmallow update was to be rolled-out in three phases, which each phase consisting of different Galaxy devices. Though there were no devices mentioned in Phase Three at that time.
Now in today's new leak, we can see many other device names included in all the three phases of the roll-out, this also includes the Galaxy Tabs. The Phase One of Marshmallow update roll-out will start with Galaxy Note 5 (SM-N9208) to be the first device to receive the update in December 2015. The Galaxy S6 (SM-G920F), S6 Edge (SM-G925F) and S6 Edge+ (SM-G9287C) will receive their updates next year in January. These will then be followed by Note 4 (SM-N910H) and Note Edge (SM-N915F) receiving their updates in February 2016. Galaxy S5 (SM-G900H) will receive its update in April 2016.
Phase Two update roll-out will start with Galaxy A8 (SM-A800F) receiving its update in March 2016. The Galaxy Tab S 10.5 will also receive the update in Phase Two in April 2016.
There are no expected dates regarding the update roll-out for other devices mentioned in all the three phases of roll-out. It's worth noting here that the Marshmallow update for the Galaxy J1 (SM-J100H) has been cancelled, whereas, the updates for Galaxy Note 3 (SM-N9000) as well as Galaxy S4 (GT-i9500) are not been approved.
We still don't have any official announcement from Samsung, so, the roadmap for the updates may change, or, it might be the same as shown in the leaked image above.