Angry Birds will be 'optimized' for Nokia Lumia 610: Nokia
Just yesterday we shared with you, that popular apps like the Tango Video Calls, PES 2012, Skype and even Angry Birds will not be compatible with the low-on-RAM Nokia Lumia 610 and today we see Nokia clarifying that Angry Birds would be available for the Lumia 610 very soon.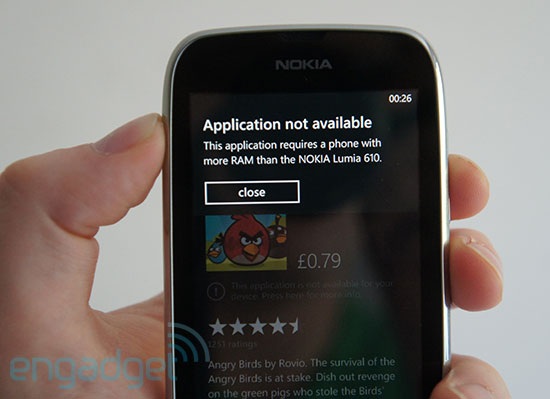 The news comes in from Nokia's Blog where Heidi Lemmetyinen, Editor-in-Chief, Nokia Conversations, responded in the comments section regarding the concerns of Nokia Lumia 610 buyers with Angry Birds not being supported.

Heidi responded to the query saying that Nokia and Rovio are indeed aware of this non-compatibility and the makers are working on a 256 MB optimised and compatible version of Angry Birds which would be out soon and no dates have been stated.
Heidi said (translated):

"The Rovio team is currently being Angry Birds Lumia 610 for the optimized version. Yet it is not therefore available to the public but we've known about this. We will notify you, of course as soon as possible."

So, for now we have to just wait and hope that this indeed is true as Windows Phone users are also waiting for Angry Birds Space which was also promised by both Rovio and Nokia to all Nokia Windows Phone users. And also hope that the 5% of all the Windows Phone apps not compatible with low-RAM devices are optimized before it's too late.