Just a few days after reporting about the Motorola XT1055 which appeared at benchmarks, we now have yet another device codenamed obake_verizon which has specs similar to the XT1055.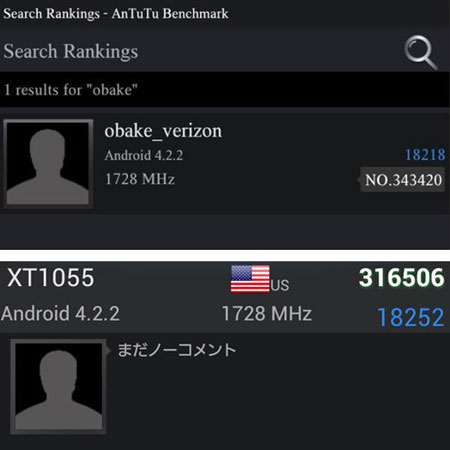 According to the benchmark results, an unknown Motorola device codenamed obake_verizon has been spotted. Interestingly, the device scored 18218 at the AnTuTu benchmarks, which is very close to the XT1055 score of 18252, thus creating speculations that both the devices are the same. To add to it, both the devices have a 1.7 GHz quad-core processor and run on Android v4.2.2.
While we are not yet convinced that both the devices are the same, it does seem odd that Motorola would manufacture two different devices with the same specs and with equal performance. At the same time, Motorola also has its hands full with the Google powered X Phone. Can it simultaneously work on three or more high-end devices?