Apple granted a number of stylus patents, could this be the iPen?
It is patent day at Apple today. We just reported about Apple being awarded a patent for interchangeable camera lenses and now, we have come across an iPen stylus patent which suggests that Apple might be working on a stylus. The name 'iPen' is just a speculation as of now.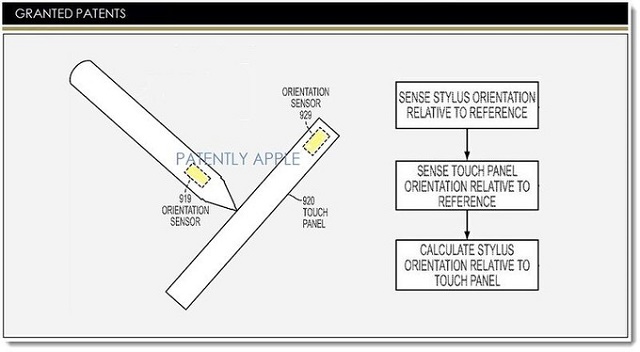 According to a report, Apple has gathered more than 20 patents for the iPen stylus it has been working on. We had ourselves come across such a patent last year. The iPen stylus patent we have come across now is dubbed 'Stylus Orientation Detection'. The patent has been discovered by the folks at Patently Apple.
The patent shows a device that comes with its very own orientation sensor and can detect the direction and type of scribble on a display. A number of cool features can be added using this technology as it would register a different stroke if you are using the tip of the pen and different when you are using it in a more inclined manner. It could also be used to mimic various real life pens like a pencil or a charcoal shading pen which is used by painters.
This patent which we are talking about was filed way back in 2011 so Apple may have had further developments on the so called iPen. But don't get your hopes too high as an iPen stylus patent does not necessarily mean there will actually be an iPen officially announced by Apple. And if Apple is really planning to bring such a device to the market then it will come with the rumored 5.7-inch iPhone or the 12.9-inch iPad.
We vividly remember Steve Jobs making fun of the stylus at the first iPhone announcement in 2007 so it is ironic that Apple might be working on bringing this tech to use. Anyways we'll have to wait and watch if the iPen stylus patent is just smoke or an actual fire.