The 32 GB variant of the iPhone 6, which will go on sale in Taiwan from March 10, is now available for purchase in India. This variant was already available for purchase in China, and now, it has made its way to India as well. The 32 GB variant is currently available on Amazon India and can be purchased for ₹28,999.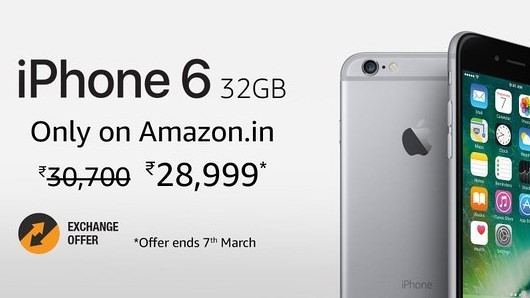 While the iPhone 6 32 GB for China was offered in a Gold finish, the one being sold in India is a Space Grey variant. However, what's worth noting is that Apple only offered the iPhone 6 with 16 GB, 64 GB and 128 GB storage. The company never officially released a 32 GB variant of the iPhone 6. Also, this 32 GB variant which is available for purchase on Amazon India is not sold by Apple itself, but by a third-party seller called E-Mobiles.
The original price of the iPhone 6 32 GB is listed as ₹30,700 on Amazon India, but, it's currently being sold for ₹28,999. However, this special offer will end on March 7, and if you go buy the iPhone 6 after that date, you will have to shell out ₹30,700 to make this 32 GB variant yours.
Also, just in case you are unaware, Apple has stopped selling the iPhone 6 in India, and, if you want to buy one, you can purchase it from Amazon India and Flipkart. Coming back to the 32 GB variant, it looks like the smartphone is Amazon exclusive and may not be available for purchase through other online or offline retailers in the country.
So, are you buying this 32 GB variant of the iPhone 6 ?