Just days after launching the 'affordable' iPhone SE in India, Apple has now launched corporate leasing plans for Indian companies to boost sales in the enterprise sector.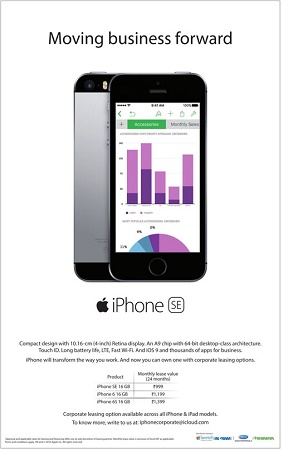 Apple has announced special corporate leasing plans in India for the iPhone SE. The plan offers the 16 GB iPhone SE variant for a monthly lease value of just Rs. 999 for a period of 24 months. The company is also extending the program to the flagships iPhone 6 and iPhone 6S. The 16 GB variant of the iPhone 6 can be leased at Rs. 1199 per month, whereas the iPhone 6S is priced at Rs. 1399 per month.
The Apple's corporate leasing plans in India are led by the company's local distributors including Beetel, Ingram, Rashi Peripherals and Redington. Interestingly, the company also offers to switch phones by paying the difference in leasing prices. However, even though it may seem affordable, unlike the regular EMI options, these plans would be available exclusively for corporate customers and would have to be availed through the company itself.