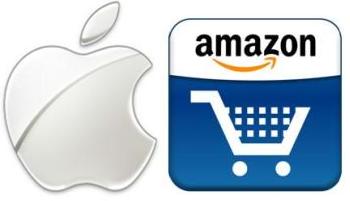 Apple Inc. has filed a complaint on the 18th of March at a federal court in northern California. They are suing Amazon.com Inc., saying the online retailer is using Apple's App Store trademark for a mobile software developer program. Apple has accused Amazon.com of trademark infringement and unfair competition and asked for a judge's order to prevent the company from using the 'App Store' name, as well as for unspecified damages.
Apple's App Store has been running successfully by providing app and softwares for the iPhone, iPod and the iPad with over 10 billion downloads since 2008. "Amazon has begun improperly using Apple's App Store mark in connection with Amazon's mobile-software developer program. Amazon has unlawfully used the App Store mark to solicit software developers throughout the United States" Apple said in the complaint.
Amazon began using the App Store designation around the beginning of this year, according to the lawsuit. Apple claimed that Amazon has been advertising on its website a program called Angry Birds Rio that will be offered soon.
"We've asked Amazon not to copy the App Store name because it will confuse and mislead customers," said Kristin Huguet, a spokeswoman for Apple.
Mary Osako, a spokeswoman for Seattle-based Amazon, said "We have a long-standing practice of not commenting on pending litigation."
Cases like these are common and end up in agreements, so let's hope this case ends on good agreements.