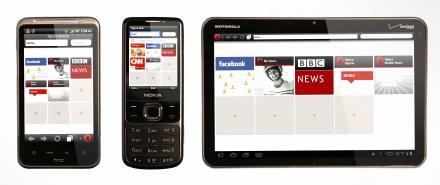 One of the most popular web browsers, Opera has launched its newest versions; The Opera Mini 6 and the Opera Mobile 11. Used by over 100 million people worldwide and available for over 3000 devices, Opera gives users a great flexible and a smooth operating web experience and the new launch will also have support for various tablets.
Opera Mini optimizes the web pages to fit cell phone screen sizes. The small and optimized pages mean that data transfer is smaller and pages arrive in a fast manner. The Opera Mini 6 browser brings the fireworks to J2ME, Android, BlackBerry and Symbian/S60 phones.
Opera Mobile provides full sized pages with HTML5 support and gives a full PC-like web experience on tablets and large-screened devices. The Opera Mobile 11 browser sings hallelujah on the Android, Symbian, Windows 7 desktop (labs release), MeeGo (labs release) and Maemo (labs release) platforms.
The new versions have been upgraded and the new features include:

Improved scrolling, panning and zooming.

True pinch-to-zoom on devices that support pinch.

The new versions feature a share button, so users can easily Tweet or just post on Facebook.

Opera for tablets brings smooth browsing to the tablet PC with a brand new interface.