Apple rolls out iOS 6.1.3 update
After prematurely rolling out updates to cover security flaws in the iOS 6.1, Apple has now launched another update which it claims will fully cover all issues faced with the iOS 6.1. The iOS 6.1.3 was pushed to mobile devices last night.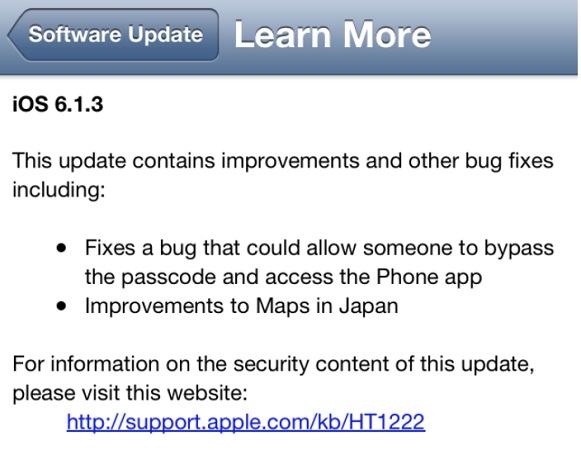 The iOS 6.1.3 update would cover the lock screen flaw which enabled anyone to gain access to a locked iPhone thus enabling unauthorized access to information like call history, contacts, photos, messages, FaceTime info and other personal information.
The iOS 6.1.3 also has improvements for the Apple Maps. The tainted maps have been worked upon in Japan with better pronunciation of turn-by-turn directions and 3D images of buildings in the country. Also maps in other parts of the world are being worked upon.
The iOS 6.1.3 update will be available to all iPhones from 3GS and later, the fourth gen iPod touch and iPad 2 and later. Check your Settings app and see if the software update is available for you.