In today's lifestyle, a lot of people depend on their smartphone for shooting pictures and videos on-the-go which has made the camera on the smartphones an integral part of it.
No it seems that Apple has realised that the iPhone's camera is as important as anything else in the smartphone. The camera of the iPhone has never been
that
impressive when we compare it with other camera centric smartphones.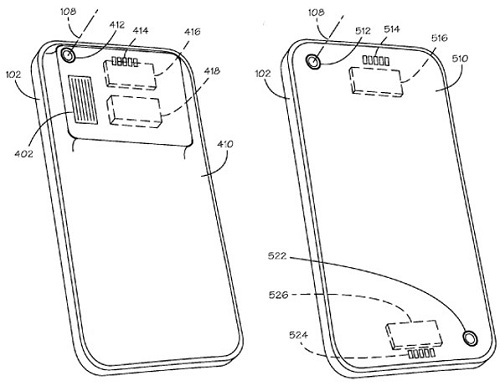 And now that the HTC One Series has a great camera onboard and Nokia 808 PureView becoming the king, Apple has filed a patent which regards to the company introducing interchangeable back cover which would allow users to change the lens of their Apple iPhone as per their needs
The removable back panel would be useful for users in order to swap filters to the lens. Also there is a mention and details of dual lenses which would make occupy place on the corners of the back-covers. So could we see the first iPhone to come with a removable back cover?
The patent explains the technology as follows:
A portable electronic device includes a digital imaging subsystem with a lens having an optical axis. A case encloses and supports the digital imaging subsystem in a first defined positional relationship to the case. A removable panel is coupled to the case and held in a second defined positional relationship to the case that covers the digital imaging subsystem without the removable panel being directly connected to the digital imaging subsystem. An optical component is supported by the removable panel such that the optical component is aligned with the optical axis and alters optical characteristics of the digital imaging subsystem. The device may include a power supply and an electronic control system coupled to the digital imaging subsystem and the power supply enclosed in and supported by the case.
Until now it is really unclear if this swappable cover would arrive on the next iPhone, the iPhone 5 or whatever they call it.
But it can be at least hoped for. Also there could also be a chance that Apple is just securing one of the thousand patents which may never be seen in real life but only intellectually. Would you love an interchangeable back cover for the net iPhone in addition to separate filters?