While Apple has always been targeting the niche premium smartphone market, it has eventually managed to claim the number 1 smartphone vendor spot.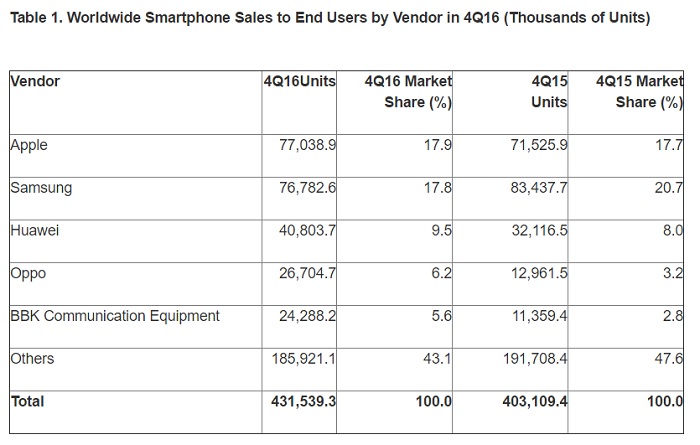 According to data released by Gartner, Apple was the number 1 global smartphone vendor snatching the title from Samsung. Apple managed to rake up a 17.9 percent market share in the smartphone industry in Q4 2016, whereas Samsung was very close at 17.8 percent. Other vendors that made it to the top 5 included Huawei with 9.5 percent and Oppo with 6.2 percent. The report revealed that a total of 432 million units of smartphones were sold in the quarter.
However, the overall 2016 charts reveal that Samsung still continues to dominate the smartphone industry with a 20.5 percent market share. Apple was second with 14.4 percent followed by Huawei with 8.9 percent and Oppo with 5.7 percent. On the whole, nearly 1.5 billion smartphones were shipped in 2016, up around 5 percent from the year before.