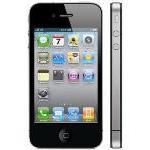 Apple has unveiled its much awaited iPhone 4 featuring FaceTime, for video calling, and Apple's stunning new Retina display, the highest resolution display ever built into a phone. In addition, iPhone 4 features a 5 megapixel camera with LED flash, HD video recording, Apple's A4 processor, a 3-axis gyro and up to 40 percent longer talk time.. iPhone 4 comes with iOS 4.

iPhone 4 is the thinnest smartphone ever—9.3 millimeters—with an all-new design and build quality. The front and back are made of aluminosilcate glass, chemically strengthened to be 30 times harder than plastic, more scratch resistant and more durable. The front and back glass have an oil-resistant coating that helps keep it clean, and encircling iPhone 4 is a highly finished stainless steel band made of a custom alloy that is forged to be five times stronger than standard steel.

iPhone 4 delivers seven hours of talk time on 3G networks, up to 10 hours of web browsing on Wi-Fi and up to six hours on 3G, and up to 10 hours of video playback and up to 40 hours of audio playback. iPhone 4 is powered by Apple's new A4 processor that provides exceptional processor and graphic performance along with long battery life. iPhone 4 features a second microphone and advanced software to suppress unwanted background noise for improved call quality when in loud places. iPhone 4 also offers 802.11n Wi-Fi networking and adds quad-band HSUPA to provide 7.2Mbps downlink and 5.8Mbps uplink capability.

iPhone 4 will be available in the US, UK, France, Germany and Japan on June 24. It comes in either black or white and will be available in the US for a suggested retail price of $199 (US) for the 16GB model and $299 (US) for the 32GB model. Customers can pre-order their iPhone 4 beginning Tuesday, June 15 from the Apple Online Store.

Also on June 24, a new iPhone 3GS 8GB model will be available for just $99 (US). iOS 4 software will be available on June 21 as a free software update via iTunes® 9.2 or later for iPhone and iPod touch customers.

iPhone 4 will roll out worldwide to 88 countries by the end of September. It will be available by the end of July in Australia, Austria, Belgium, Canada, Denmark, Finland, Hong Kong, Ireland, Italy, Luxembourg, Netherlands, Norway, New Zealand, Singapore, South Korea, Spain, Sweden and Switzerland.