Bharti Airtel acquires Zain, becomes 5th largest mobile operator in the world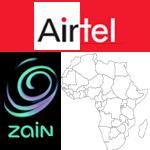 Bharti Airtel Ltd has acquired Zain Group's ("Zain") mobile operations in 15 countries across Africa for an enterprise valuation of USD 10.7 billion. With this acquisition Bharti Airtel becomes the 5th largest mobile operator in the world. This acquisition will Bharti Airtel to operate in 18 countries across Asia and Africa.

Bharti's acquisition of Zain's African mobile services operations covers 15 countries with a total customer base of over 42 million. The total population base covered is over 450 million with telecom penetration of approximately 32%. The countries in which Bharti has acquired the operations are – Burkina Faso, Chad, Congo Brazzaville, Democratic Republic of Congo, Gabon, Ghana, Kenya, Madagascar, Malawi, Niger, Nigeria, Sierra Leone, Tanzania, Uganda, and Zambia. Zain is the market leader in 10 of the 15 countries and second in 4 countries.
Mr. Sunil Bharti Mittal, Chairman and Managing Director, Bharti said,
"We are delighted at the closure of this transformational deal for India and Bharti. We would like to express our deep gratitude and thank the governments of all the fifteen countries as well as the government of India for their overwhelming support to this landmark event. This will further strengthen the historic Indo-Africa economic & social ties and provide a big boost to South-South cooperation.

Bharti, which has been working towards its vision of expansion into Africa, is committed to contributing to the growth of telecom in the region by taking networks deep into these countries and providing affordable services that touch the common man. We also promise our customers in Africa a superior brand experience and a portfolio of innovative products & services.

We would like to welcome over 6500 talented and highly qualified professionals to the Bharti family and look forward to working with them to take these operations from strength to strength. We would like to thank the Zain team for their professionalism, which enabled us to close this transaction in a record time."