The Apple Watch has been highly anticipated and there has been much curiosity on one of the important aspects of a smartwatch, the battery life. We have no idea how the battery of the Apple Watch will fare but a new report sheds light on it.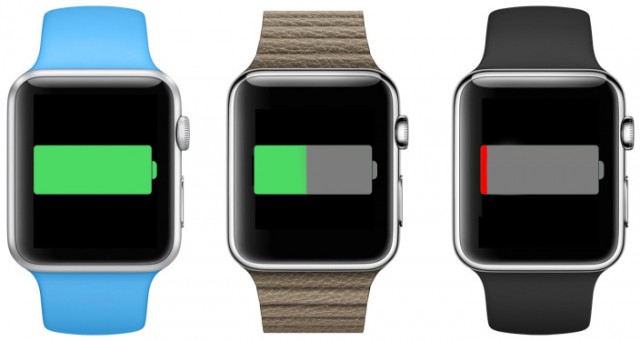 The report comes from 9to5Mac and if the report is to be believed, the Apple Watch battery life will not be too great, if that's what you have been expecting. When Apple had unveiled the Apple Watch, it had said that users will need to charge the watch nightly but there were no other details. The report suggests that the Apple Watch will offer 19 hours of battery life with mixed usage.
On active application use, the wearable will offer 2.5-4 hours of battery life and while using the Watch's fitness software continuously, you can expect 4 hours of charge. The standby time target for the device is 3 days and the device wil give you 4 days of backup in sleeping mode. The Apple Watch will last 3 hours when the timepiece mode is on with all the animations turned on and the company does not expect users to use this feature too often.
The modest battery life of the Apple Watch is said to be the result of the company using a powerful processor and high quality display. Although the Watch is running a striped down iOS version dubbed SkiHill, the Apple S1 chip inside the Watch is close to the Apple A5 chip in terms of performance. The display is also Retina grade with a refresh rate of 60 fps.
According to the report, Apple is testing the Watch extensively with around 3000 devices circulating with internal testers. The Apple Watch is expected to be released by March-April and we can't wait to try the Apple wearable for ourselves. What'd you say?