Holi is the festival of colors in India. People enjoy Holi with their friends and family. We do share SMS and greetings to the people wishing them Happy Holi over SMS and messages on WhatsApp and Facebook. Enjoy the festival of Holi this season with your mobile phones. Why not try a few Holi apps for Android and see what they can do for you. We have gathered a list of 5 Android apps for Holi festival you can celebrate with. Here they are.
5 Android apps for Holi festival
Play Holi with your smartphone as well. Now celebrate Holi with lots of colors on your phone. First ever Holi game created for Holi festival in which you get all the ingredients to play the game. How to play the Holi game? Paint the canvas with colors. Holi is a game for your Android.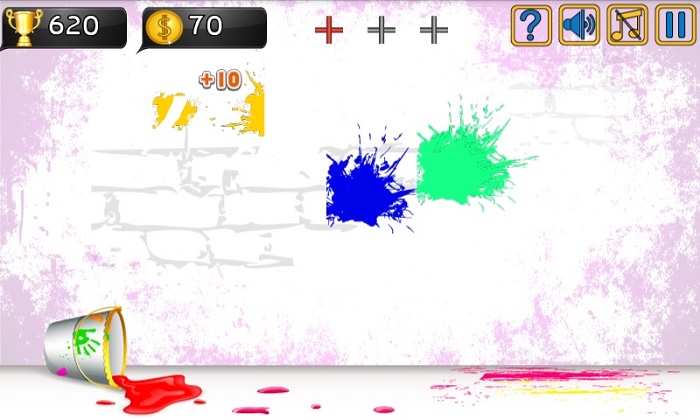 How to play the Holi game? Paint the canvas with the colors you like. Throw water balloons and a bucket of colored water Create an art with different colors and enjoy the game. Score well and get coins after every win. Enjoy!
Another app for Holi festival is the Holi Live Wallpaper. The app is available for free for your Android mobile. The app consists the finest selections and the best quality of live wallpapers in HD and Quad HD. Holi Live Wallpapers gives you bubbles effects when you interact it.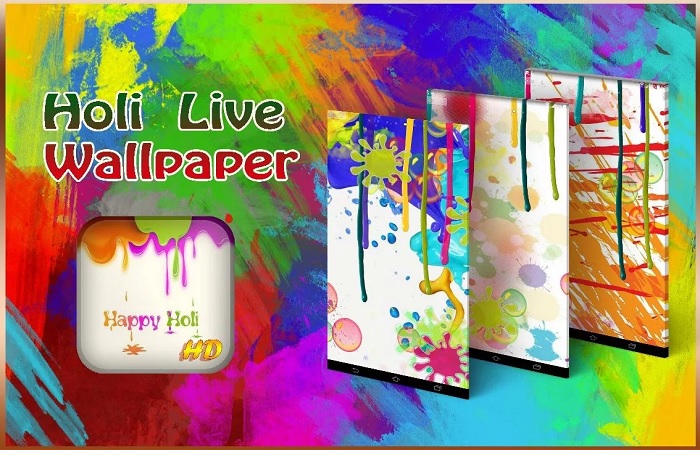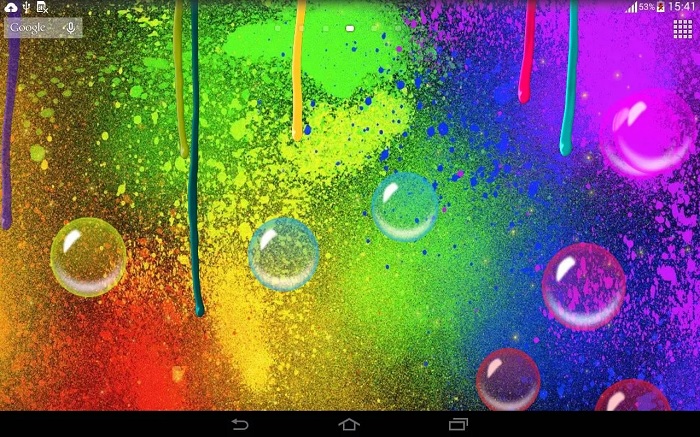 Key features
Select different color bubbles that splash paint when you touch the screen.
Select different types of paint color flowing on your phone's screen.
Select from multiple Colorful rangoli backgrounds.
Celebrate this Holi festival with the app 'Holi Live Wallpaper' and have a great Holi.
Now celebrate Holi with a huge collection of Holi Shayari in Hindi and share among people and your loved ones. The app provides an elegant and simple way to share your favourite Holi Shayari. Get as many Shayari you want from the app and share them on SMS, Facebook, WhatsApp, Email, etc. Tap on Shayari and select the Shayari that you want to read.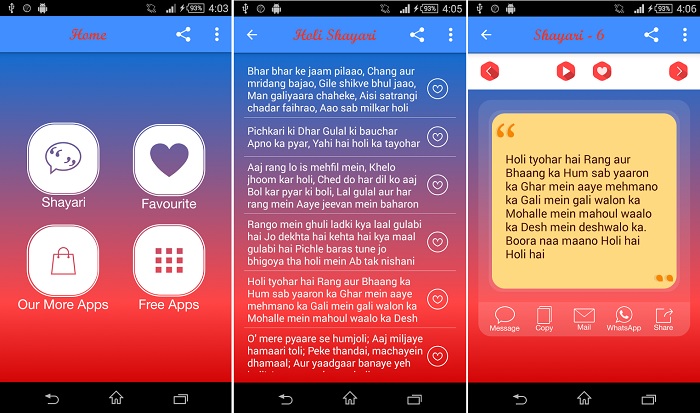 A great Shayari app for you. The app has all types of Shayari only. enjoy your festival with Holi Shayari.
Key features
Huge database of Holi Shayari.
Get Free Hindi ShayarisListen button to listen Shayari.
Listen button to listen Shayari.
Share Shayari with friends and family.
Add your favourite Shayari to favourite list.
If you like to share SMS to your friends and family, here's an app that you like 'Holi' available on Google Play Store for Android devices. The app lets you read Holi SMS and share them on numerous platforms.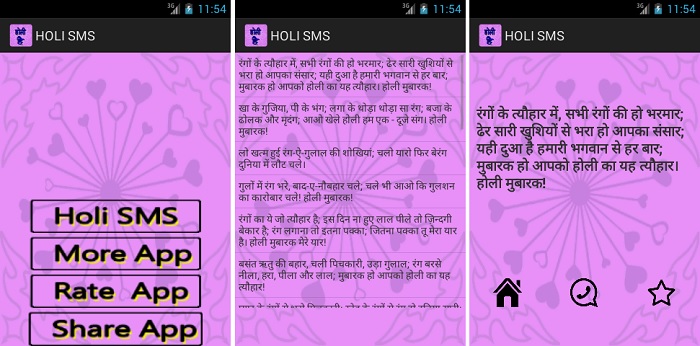 The app gives you Hindi SMS for the Holi festival. There is an option to share it with your WhatsApp contacts. You can save it by pressing the star below the Hindi SMS.
Holi Songs Hindi+ is the best app to celebrate Holi festival. This app provides the top 10 Hindi songs for Holi festival. The app lets you set and/or share Hindi songs, find new Ringtones, Play the Holi songs in offline mode. It allows you to record songs with your own voice and play it from within the app. Moreover, it allows Holi wallpapers for your mobile.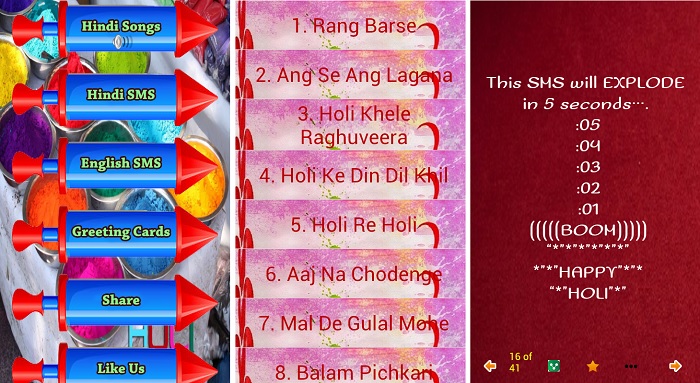 Key features
Set and/or share Hindi songs
Get Ringtones
Get the finest Hindi Holi songs
Repeat the songs
Play Holi songs offline
Record songs with your own voice and play it
Get Holi wallpapers
Set and/or share Holi wallpapers
Create or send Holi greetings card
Send English/Hindi messages
So these are the 5 apps for Holi that you can install on your Android phone. We hope you will enjoy the festival of Holi with these Holi apps. If you want to add any more apps in the list, mention them in the comments below. If you find it useful please share it among your friends with the given social buttons.