Asus Transformer Prime website goes live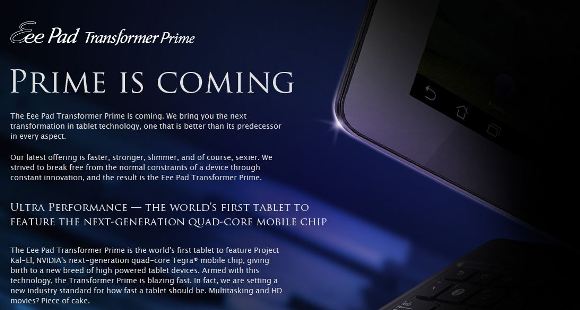 A few days back we shared with you that Asus is going to launch a new tablet named Transformer Prime under Eee Pad range, and now its website is live. Asus CEO Jonney had at the AsiaD conference in Hong Kong said that Transformer Prime will run on NVIDIA's latest and most advanced quad-core Tegra 3 processor. According to the website Transformer Prime is faster, stronger, slimmer and sexier.
Asus believes that with this 10 inch tab, they are going to set new industry standards as to how fast a tablet should be. Well for that we have to wait until its official launch on the 9th of November.
Features of this tablet as far as we know are:
• 10 inch display screen and 8.3mm thick
• Mini-HDMI port
• An SD card slot
• Battery life of 14.5 hours
• Can be docked to a full QWERTY keyboard
Stay tuned for more on this.