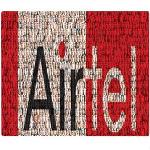 Airtel is set to become the first Indian operator with 100 million subscribers nationwide, in all probability within a few weeks. At the end of March, Bharti' Airtels overall subscriber base was 96.6 million. After including the subscribers added in April, its total subscriber base is expected to hit 99 million. Bharti added 32.5 million subscribers in 2008-09 with an average of 2.7 million subscribers per month.

Bharti Airtel added a record 8.37 million new subscribers in January-March quarter, according to a statement issued by company on Wednesday. These numbers suggest that Bharti's mobile subscriber base alone is already to 97 million (93.92 million of its 96.6 million subscribers in March were mobile subscribers). Somewhere in the middle of May its overall subscriber base is likely to cross 100 million and by May-end/early June its mobile subscriber base is expected to cross the 100 million mark.Airtel's CEO & Jt MD Manoj Kohli admitted that the 100-million subscriber mark would be breached latest by early June. This means that nearly one of every 13 Indians will be using an Airtel subscription by that time.

This will also improve Bharti Airtel's global ranking. Others ahead of Bharti include China Mobile, Vodafone (UK), Telefonica (Spain), Telenor (Scandinavia), China Unicom, T Mobile (Germany) and Orange (France). Yet, unlike Bharti whose 100-million subscriber base has come from a single country India most of its rivals in the top ten have consolidated figures across many countries. Where single country subscriber numbers are concerned, Bharti will rank in the top five with every possibility of becoming the second or third largest in the world by 2012 after China Mobile/China Unicom.

By comparison, the world's largest mobile company, state-owned China Mobile already serves close to 480 million subscribers, 80 million more than India's total mobile population.