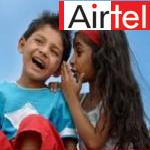 Bharti Airtel today gave social networking a voice with the official unveiling of Airtel Blog. With nearly 2 million users having experienced it in the first 3 months of its launch, Airtel Blog is
currently the world's fastest growing voice-oriented social networking service. With this, Airtel has brought the power of social networking on voice to its mobile customers – where they can share recorded voice updates with their followers – fans, friends or family.

How Airtel Blog Works

To subscribe to a voice-blogger and follow their updates, simply dial *short-code* (for example *5000* for Amitabh Bachchan, or *91xxxxxxxx* for a friend.)

To launch a voice-blog, just dial *7* and follow the prompts.

When status updates are recorded, followers will receive free SMS notifications, and will be prompted to dial *2* to listen to the updates in their Airtel Blog inbox.
Charges for the service

You can leave a blog by dialing *7* @ 75p per min. You can start following each other free of cost. Only for being able to listen to another consumers blog you will have to dial *2* @ 75p per min.

You can call up *9XXXXXXXXX* @ 75p per min to listen to all the old blogs of another consumer.

Celebrity blogs can also be followed by dialing a number of codes like *5XXX* @ 75p per min @ Rs.10 per month.

Activation of these celebrity blogs will also be done across access mediums (*321*22#, WAP & SMS – 52000).
Click here to check out the list of India's Most popular voice bloggers.