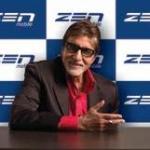 Superstar Amitabh Bachchan is now associated with Zen Mobile as its Brand Ambassador. According to the agreement, Mr. Bachchan will endorse and promote the products offered by Zen Mobiles.

Zen Mobiles is geared up to launch a slew of QWERTY and multimedia mobile handsets loaded with social networking experience for Indian market. The company plans to leverage its association with Mr. Bachchan through an exciting media campaign and various interactive consumer related activities in the coming months.

Commenting on the occasion, Mr. Amitabh Bachchan said, "I like to connect with brands that I believe in, brands which show commitment to fulfilling the needs and aspirations of Indian people and I found exactly these qualities in Zen Mobiles. I hope my association with the brand will take it closer to people and they would be able to appreciate the brilliance and innovation of Zen's handsets."

Commenting on the occasion, MD of Zen Mobile Mr. Deepesh Gupta said, "We are honored to have Mr. Bachchan on-board and are confident that our association with him will create a deep impact on the minds of our target audience and help our brand and products meet success. Mr. Bachchan is a quintessential mix of charisma and style with a mass appeal, which is what the Zen Mobile brand stands for. We are confident that signing on Mr. Bachchan as our brand face in India will help us create a closer connection with our audience. He is the best at what he does and that is also the Zen Mobiles philosophy".

"India is a critical market and the competition in mobile handset technologies is growing fast. Mr Bachchan will help render sheen to our brand with his grandeur. Nothing compares with the legendary Big B, a style icon, who is admired as an aspirational figure and Zen Mobiles is placing its bet exactly on that", Mr. Deepesh Gupta added.