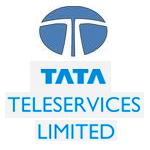 Tata Teleservices Limited has added 2.33 million new subscribers in the month of May 2010 to cross the 70-million-subscribers milestone in a  span of just over five years since the launch of its mobile telephony services in early 2005.  Tata Teleservices Limited and Tata Teleservices (Maharashtra) Limited  has shown a subscriber growth rate of more than 100 per cent in the last 12 months—from 35 million subscribers in May 2009.

Commenting on the achievement, Mr Anil Sardana, Managing Director of Tata Teleservices Limited, said: "We thank and appreciate every subscriber's faith in us as a transparent, caring and efficient telecom services company. With each new milestone crossed, we have raised our own internal benchmarks—in keeping with our larger objective of consistently enhancing and improving our standards, and of providing our customers with differentiated and lifestyle-impacting telecom services. The achievement also bears testimony to the efforts that have been put into making our network and services the best in the industry—we will continue to innovate and evolve, providing world-best products and offerings to our subscribers."

The last financial Year has been an extremely successful one for Tata Teleservices Limited, wherein the company introduced its new GSM brand Tata DOCOMO, introduced its industry-changing 'Pay-Per-Second' and 'Pay-Per-Call' tariff plans, unleashed products like Photon TV and Mobile TV, and offered lifestyle-impacting products like Buddynet, diet-sms and many others.

"With the countdown on 3G services having begun, we will continue to walk the innovation path, providing our customers with differentiated products and services which will take telecom to the next level. We are working closely on the creation of such relevant products with our partners, particularly NTT DOCOMO, which is acknowledged as the world leader in telecom technology development; and look forward to the next wave in Indian telecoms," Mr Sardana added.