One thing that has people switching from touch to QWERTY even now is the inconvenience of typing on a touch keyboard. Working with touch is faster and easier but the only lag till date is the chance of a mistype doubles. But, it seems with TypeWay iPad keyboard, this problem will cease to be. It adjusts its buttons to fit your hands!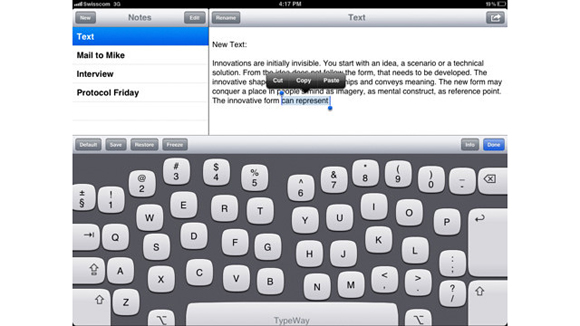 The people with big fingers are, till date, the ones who find it the hardest to type. But, the TypeWay keyboard will adjusts its key layout whether you have tiny or mammoth fingers. It will also remember your style, habits and typing speed. The TypeWay version 1.0 is for iPads only and supports only 10-finger typing. It comes only in landscape mode.
While this app is currently available in iTunes Store for $6 (Rs.300), it is than connecting a physical keypad to your iPad. While TypeWay has no information as yet on this we hope versions for other devices, especially our phones come out soon. Portrait mode would also be welcome addition. One other idea we have is having one for disabled people. We hope some developer catches a whiff of this soon. Till then, at least iPad users can rejoice.