Xapper smartphone gun unleashes your inner baddie
If your phone isn't as badass as you are, here's what you need. The Xapper smartphone gun from Metal Compass transforms your phone into a laser gun!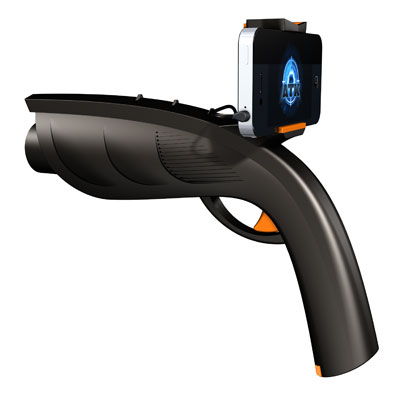 The Xapper gun seems as if it just stepped out of a gamer's ultimate fantasy. It is capable of playing augmented reality games for e.g. ATK. It supports all three major mobile platforms – Windows, iOS and Android. Enlisted games include AR gamers, AR wars Spray'em, ATK online with others slated to come soon.


"The Xappr guns has already more than 10 amazing augmented reality games that will allow the player to intercept alien spaceships, find and eliminate ghosts, fight evil flying robots, hunt a horde of blood thirsty zombies and the most important – engage in battle with other players." says Oren Shtark, CDO, Metal compass.
It seems finally people are taking mobile-based gaming seriously. Think of snapping this to your phone and going on a virtual shooting spree. What remains to be seen if it could hi-def games such as Counter-Strike or Lords of War on your phone. That would create a different fantasy all together and for hardcore gamers it will be no less than a boon.
You can pre-order it at $30 (Rs. 1500), shipping charges extra. Currently it is taking pre-orders till June for U.S., Canada and Israel only. We hope rolls out for India soon.