The upcoming Blackberry 10 OS on the pre-release Blackberry Z10 smartphone is definitely going to stun the likes of Apple, Google etc. It has been revealed that the Blackberry 10 OS will feature voice controls like Apple's Siri.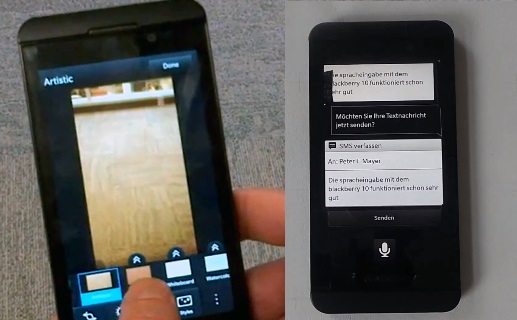 There is a dedicated button on the right side panel between the volume keys to activate the voice control. The voice control feature can be used to manage the smartphone 
entirely without the use of touch.

Common actions like texting, calling or using an app can be conveniently achieved using proper voice commands. For example, if you need to send a text message to a mobile contact all you have to do is say "Send text message" after activating the voice control feature.
 
The phone asks the contact to whom the message is to be sent. After this the message to be sent is asked. The dictated message is then converted to text and re-read for verification. Finally when you say "Send" the message will be sent to the contact. The voice control feature can be used for map navigation as well.
 
The touch is very smooth and the screen gestures are very exquisite. Compared to the Apples' Siri and Google Voice functionality, the Blackberry's Voice control feature is more powerful and easy to use.
 
Another highlight of the upcoming Blackberry Z10 is the camera. With the latest addition of Instagram-like photo filters, there is more weight in the photos. The artistic filters allow the photo to be changed to different colors. The photos can also be edited, cropped and transformed to give professional looking photos.
 
The menu navigation will mostly use swipe gestures. The notification screen is converted into what is termed as the Blackberry Hub. The Hub will have shortcuts to the commonly used apps, tasks.
 
Check out the Voice control and the camera of the BlackBerry 10 running BlackBerry Z10 smartphone in the videos below.