Blackberry Messenger for Android and iOS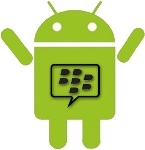 In an exclusive report, BGR informs of a possible Blackberry Messenger application for Android and iOS users. According to BGR, the pricing is not yet confirmed, but it may be free. The Android and iOS versions would have the basic text messaging support, but it may be able to share multimedia or geo locations. With the cross platform BBM, users can communicate with anyone on a smartphone. But the full functionality of BBM will be still enjoyed only by Blackberry users.
Earlier this week Facebook acquired Beluga which is a powerful cross platform instant messenger. Its always been compared to Blackberry messenger. Maybe applications like Beluga and Kik are giving a tough competition to BBM and hence the reason for this decision. RIM's ultimate objective could be to lure other platform users by giving them a taste of the Blackberry Experience. But with the plethora of choices available for the Android users, it is definitely a tough task.