BlackBerry Messenger updated to v6.0.1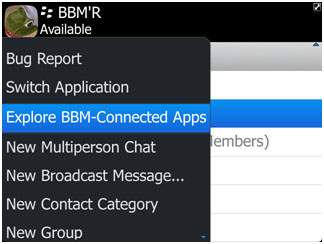 BlackBerry has announced that BBM v6.0.1 is out of beta testing and is available for download to all users. With this new version, developers using BBM Social Platform have an advantage as they can make their apps more visible and easier to find. Also now it's easy for users to share app content with BBM contacts.
More on the new version are as follows
Explore BBM-connected Apps – BBM users will now be able to pull up "Explore BBM-connected Apps" from a menu in the BBM Contacts screen, which starts a BlackBerry App World storefront search for "BBM" by redirecting users to a list of up to 25 of the most popular BBM-connected apps available.

Sharing App Content with Your BBM Contacts is Easier – Users can share app-specific content with BBM contacts regardless of whether the contact has the app installed.

Include BBM v5.0 users in application invites – Now users can now invite BBM v5.0 & BBM v6.0 contacts to join in the fun and share BBM-connected app experiences. Contacts using BBM5.0 will be prompted to download BBM6.0.
The update is reaching users gradually and if you are not able to see the update, wait and try or visit to download the latest version of BBM6 over here.