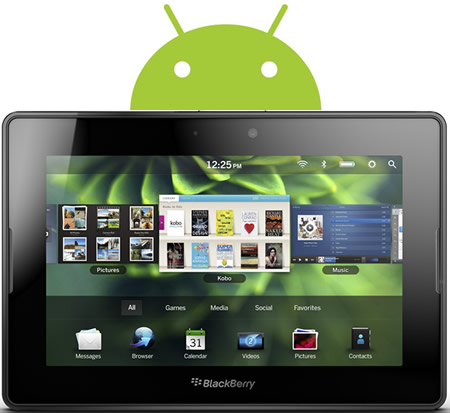 Research In Motion (RIM) have big plans for the PlayBook tablet. It will soon have additional tools and options to enhance and expand their commercial opportunities. RIM also announced that they will be expanding the application environment for the tablet.
For now RIM has confirmed two application runtime environments, one for the Blackberry Java apps and one for Android 2.3 apps. Yes, certain Android 2.3 apps will be supported by the Blackberry Playbook. RIM will also be releasing the native SDK for the Blackberry PlayBook enabling C/C++ application development on the Blackberry Tablet OS. For game-specific developers, RIM is also announcing that it has gained support from two leading game development tooling companies, allowing developers to use the cross-platform game engines from Ideaworks Labs and Unity Technologies to bring their games to the Blackberry PlayBook.
Mike Lazaridis, President and Co-CEO at Research In Motion said, "The Blackberry PlayBook is an amazing tablet. The power that we have embedded creates one of the most compelling app experiences available in a mobile computing device today.The upcoming addition of Blackberry Java and Android apps for the Blackberry PlayBook on BlackBerry App World will provide our users with an even greater choice of apps and will also showcase the versatility of the platform."
The Blackberry Tablet OS already supports strong platform with support for Web development standard HTML5 and Adobe AIR. The Blackberry Tablet OS is built from the ground up to run WebKit and Adobe Flash as well, giving developers a fast and true Web experience to leverage.