Blackberry Torch: First thoughts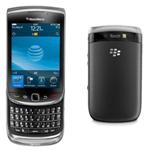 The Blackberry Torch, a slider phone was unveiled a couple of days back creating a lot of buzz around the world. The phone is to be launched in USA through AT&T while Canada will get it through Rogers, Bell and Telus. This device was believed to be a game changer for Blackberry with a new physical form while it's new Blackberry 6 OS would do the internal magic. However, reviews have been showing that Blackberry 6 OS still has a lot more to go on while key factors such as HD Video recording and a high resolution screen have been missed out. Here's our take on it.
Specs:
3.2″ Capacitive touchscreen

Slide-out QWERTY keyboard

GPS, Wi-fi [802.11 b/g/n]

5MP shooter with Autofocus, geotagging, optical zoom

1300 mAh Battery, 3.5mm Audio port

All new

OS –

Blackberry 6

624Mhz processor

MicroSD upto 32GG
What has been missed:
HD Video Recording : When 720P video recording has become a standard feature on every smartphone released recently, Blackberry's all new device doesn't sport it. Well, who said Blackberry users want only their E-mails?

High resolution screen: In the era of AMOLEDs and Retinas, Blackberry brings in a 360X480 display which seems to be a very poor performer. Reviews reveal that images look very poor and texts look blocky.

The BlackBerry 6: Yes, the BlackBerry 6 OS has been missed. The new OS BlackBerry 6 is reported to have carried forward a hell lot of bugs and issues from its predecessor, the OS 5. The only positive here is the Webkit-based Web browser which seems to deliver better results than the old ones. But, there is no flash support again. Yet again.

Lightweightness : Who would want to carry a phone weighing 161 grams in their pockets? Well, it can be understood it is a slider+touchscreen but still, it is too heavy for man. If one could recollect, the N97 weighed 150 grams and its weight was one of the reasons the phone was discontinued immediately.

Video calling : Yet again, Video calling has been left behind. There's no secondary VGA camera and there is no video calling on the Torch. Well, who's life is it going to lite up then, Facetime's?
While Blackberry has left a huge set of features on this device, the Torch seems to have a perfect QWERTY, thanks to their expertise with those. Blackberry Messenger and Email have always been their top feature and no compromise has been done to those here, also to mention the improvements on them. With an all new Webkit-based browser, Web browsing is expected to be enhanced along with 802.11n wherever you don't find your 3G.
To sum it up, the Torch is for those Storm users who wanted to type their mails quickly and those Bold users who wanted to touch their media and enjoy a better Web experience. Nothing more.