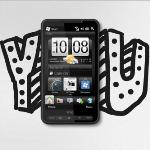 Many months back the members at XDA-Developers were able to run android on the HTC HD2 which runs windows 6.5 as stock operating system, and many people bought this device just because its 2.3" and to use android mainly but the only problem was that you have to boot into windows first and then run 2 .exe programs and then you will be able to boot into android, but now you don't need to boot into windows to run android you will be able to use android directly.
The guys at XDA have been working very hard and they have come up with a method through which you will be directly booting into android from GO. You don't need to boot into windows and then perform some extra steps to use android.
You need a RADIO which supports 576 RAM (2.08 or higher), and HARDSPL 2.08 installed on the device  and you will be able to flash the 'MAGLDR' which will do the work for you!
For those people who want android as their primary operating system on their beloved HTC HD2 then you can follow these set of procedures written by XDA member mskip by clicking here.