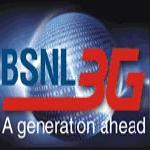 In less than one year, 3G service has been rolled out in 318 cities with 8.56 lakh subscribers.  In the first phase of its roll out, BSNL has plans to cross 400 cities by 31st March and 760 cities by September 2010, which will cover all important cities across the country. 

BSNL soft launched premium 3G service in Chennai on February 22, 2009.  Commercial launch of the service commenced on February 27, 2009 in 11 selected cities in North & East Zones.   Service has since been launched in South Zone also.
BSNL's present mobile customer base is 59.5 million and during the last two months average monthly addition has been 2 million connections.