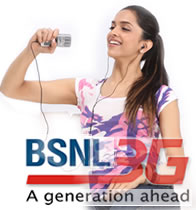 State run Bharat Sanchar Nigam Ltd (BSNL) expand its 3G Mobile services to 3 More cities named Faridkot and Muktsar in Punjab telecom circle and Chikmagalur city in Karnataka telecom circle.

BSNL 3G Services will provide High quality multimedia features like video calling, high speed Internet browsing up to 3.6 Mbps through Mobile phone/Data Cards (modem) and also subscribers can enjoy Live Mobile TV & VoIP services on 3G Compatible mobile phone.
Mr.Pradeep Paliwal, CGM, BSNL Punjab Telecom circle said "Roll out of 3G mobile services in all the 23 designated towns of Punjab has been completed with the commissioning of 3G services in Faridkot and Muktsar."
While in launching of 3G services in Chikmagalur city in Karnataka telecom circle, Mr Sathyanarayana, GM, BSNL Chikmagalur SSA, said "BSNL 3G services are now available in city area of Chikmagalur.To provide seamless 3G connectivity, three BTS have been readied out of 5 cell site in the city and another two sites will be added in next few days.The 3G services will be will be extended to other Sub-Districts level and taluka headquarters in the next couple of months.