BSNL now have over 7.5 lakh 3G subscribers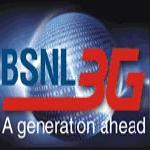 BSNL has announced that more than 7.5 lakh subscriber are now using its 3G services.

Speaking at 7th VAS INDIA 2010 event organized by Bharat Exhibitions in Mumbai, Mr, SS Sirohi, Principal General Manager & Head, VAS, BSNL said "presently approx 7.5 Lakh customers are using 3G service over BSNL network, which is currently available in 300 cities and the target is to spread it to 700 cities by July 2010.

On Value Added Service in BSNL, Mr Sirohi added that "Approx 50 Million ring tones are downloaded every month using BSNL 2G and 3G GSM network.The Indian Premier League shall be merging with Youtube and the cricket match can be viewed from the cell phone with a staggering 36 camera view options. The speed of BSNL 3G is 3.5Mbps if the download speed is enhanced or the bandwidth is increased, user will have an enriched experience by downloading movies, games, and utilities at a faster rate.

He added : "new customers, new platforms, new generators, new operators are joining the market everyday so the opportunity is tremendous."

However in West Zone and some more cities; BSNL 3G network and service is currently not available and BSNL commercialy launched this service soon in West Zone also. According to the operator, the 3G network up-gradation work is going on in full swing across India to accommodate every one in the next generation mobile network. The 3G services bring high quality voice services along with high speed data and video services.