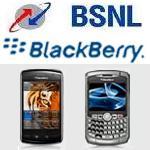 Bharat Sanchar Nigam Ltd today announced revision of its exiting BlackBerry Plan BIS P-II. Along with this BSNL also introuced a new plan – BIS-C – for its BlackBerry users.
Now, Plan BIS P-II will offer 2000KB of Free usage per month, instead of 500KB per month which it used to offer earlier. BSNL has also revised usage charge beyond free limit, earlier it was Rs. 0.15/KB, now it is Rs. 0.1/KB. This Plan is available for both 2G and 3G customers at a fixed monthly charge of Rs. 499.
The new BSNL BlackBerry Plan – BIS-C – is available for both Postpaid and Prepaid BlackBerry users. This plans is available only for 2G customers and offers Unlimited emails (POP/IMAP), Instand Messaging and Internet Browsing access of which is limited only to BlackBerry smartphones. BSNL Postpaid BlackBerry users need to shell out Rs. 362/month for this plans and Prepaid users can avail this plan by recharging with STV for BlackBerry Prepaid @ Rs.399. It comes with 30 days validity.