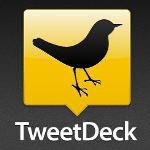 The most anticipated twitter client for Android, Tweetdeck is now available as beta version. It can be downloaded from here. Its not available in the market yet. We @MobiGyaan downloaded it and installed it in Motorola Milestone. Here is a quick hands-on on the app and an overview of what the application is capable at its current beta state.
The application is loaded for the first time, you are presented with a screen to configure your accounts. You can choose to log in using your Tweedeck log in, if you already have one. You can also log into each of the social networking sites individually. Currently the beta version supports twitter, facebook, buzz and foursquare. After configuring your accounts, you are taken to the home-screen. The home-screen is an aggregator of all your life-stream across all the social networks configured. The default columns are Home, replies and direct messages. Replies and direct messages are specific to twitter updates only.
The column management is not yet a robust feature. Navigation is not intuitive and we expect it to be refined in the final version, because columns are one of the major strengths of the tweetdeck application. You can reply to a tweet, retweet it or favorite it. You can also view the twitter conversation. You can view any of your twitter friend's profile, their list and their time-line. The notifications feature is at its infant state. Once the application is closed, notifications are not received. The application has to be active to receive the notifications and you can configure the notification.
The font size, color or background cannot be customized yet. But the scrolling is very smooth and the text is visible even to the weakest eyes. Landscape mode is supported only in the screen where you update the status. Other screens are forced to remain in the portrait mode.
The entire experience of the application is seamless and smooth. But a lot of refinements is still pending. We will update you on this once the application is out of public beta version and available in the market.