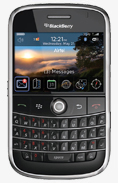 Contrary to what many Blogs and Websites reported, BSNL launched its BlackBerry Services today. It was reported by many of the Blogs and Websites that BSNL will launch its BlackBerry Services in month of April. By announing the launh of BlackBerry Services BSNL became the first Indian Mobile Service Provider who is providing BlackBerry Services on 3G Network. At present only 3 BlackBerry Handsets priced between Rs. 14999 – Rs.34399 are made available. These 3 handsets are
Blackberry Bold, Blackberry Curve 8310 and Blackberry 8700.
BlackBerry is made available to PostPaid users. BlackBerry Internet Service has been made available at the fixed monthly rental ranging from Rs. 299 to Rs. 999. Plans for BlackBerry Enterprise Services will cost Rs. 425 and Rs. 875
The above BlackBerry Service charges would be added to the fixed monthly rental of the PostPaid Plan which customer is using. For instance if a customer is using Plan 525 and if he go for any fo the BlackBerry Plans then he will have to pay Rs. 525 + BlackBerry Service Charges.
Stay Tuned with MobiGyaan.com for more details on BSNL BlackBerry.