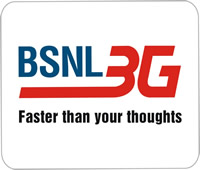 State Operator Bharat Sanchar Nigam Ltd (BSNL) launched it 3G mobile services at tourist hot-spot Kodaikanal in Madurai SSA in the state of Tamilnadu.
With the 3G Services operaor can provide high quality multimedia services like video calling, high speed Internet browsing through mobile phone/data cards, Live Mobile TV, Video SMS, and VoIP services on 3G Compatible mobile phone.
Mr K.V. Sanjeevi, GM BSNL Madurai SSA said that "The main objective of launching the BSNL 3G services in Kodaikanal was to provide better service not only to residents of Kodaikanal but also to tourists from different places across India."
BSNL 3G SIM Card (U-SIM) will comes at Rs.59 and it is available at BSNL CSC as well as BSNL distributors. After the activation of sim card subscribers needs to recharges their account with FRC120 while the existing 2G subscriber can take this plan just by one SMS from their BSNL mobile. As an introductory offer 3G service subscribers will get 50 free video calls and free Data usage up to 25 Mb. Beyond free usage Local Voice and Video calls will be charged at just 30 paisa per minute and All STD video calls will cost 50 paisa.
BSNL 2G prepaid subscribers can migrate to 3G service by one SMS M3G120 to 53733 while for postpaid subscriber can send M3G25 to 53733, after confirmation SMS, 3G service will be activated.