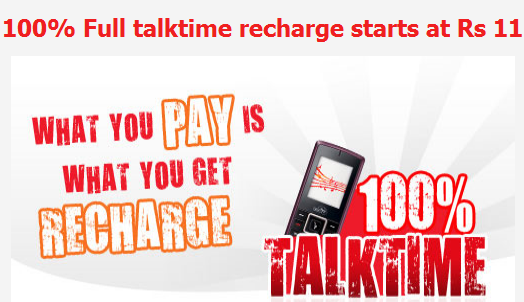 Running low on balance? Now Virgin Mobile offers full talktime on chota and bada topup ranging from 11 rs to 301 rs.
However this topup comes with a talktime validity within which the user has to utilize all the talktime..

Following are the details:-

Rs.11 :- Full talk time of Rs.11,valid for 2days
Rs.31 :- Fulltalktime of Rs.31,valid for 5days
Rs.71 :- Fulltalktime of Rs.71,valid for 10days
Rs.101:- Full talktime of Rs.101,valid for 12days
Rs.201:- Full talktime of Rs.201,valid for 20days
Rs.301:- Full talktime of Rs.301,valid for 30days
*  The talk time offered as part of these recharges can only to be used within the specified time     period.
*  Offline cost in the form of data and other VAS services would not be charged from this talk time,       and would be deducted from the core balance.