Christmas Sale announced by SEGA Games for the iOS platform
SEGA has announced its Christmas sale for all your iOS users. SEGA will be offering various games at reduced prices and the best part is that they titles will be available worldwide.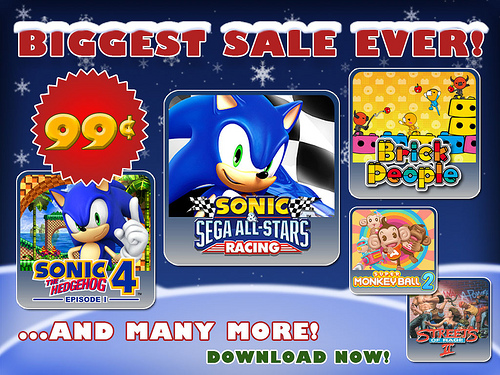 We aren't very sure if the sale will be valid for Indian customers but SEGA's blog says that the titles below are on sale worldwide.
Sale prices are valid from December 20, 2011 to January 2, 2012
Sonic & SEGA All-Stars Racing – Regularly $1.99, Sale price $0.99/£0.69/€0.79

Sonic Spinball – Regularly $1.99, Sale price $0.99/£0.69/€0.79

Sonic the Hedgehog – Regularly $3.99, Sale price $0.99/£0.69/€0.79

Sonic the Hedgehog 2 – Regularly $3.99, Sale price $0.99/£0.69/€0.79

Sonic the Hedgehog 4: Episode 1 – Regularly $3.99, Sale price $0.99/£0.69/€0.79

Golden Axe 2 – Regularly $2.99, Sale price $0.99/£0.69/€0.79

Golden Axe 3 – Regularly $2.99, Sale price $0.99/£0.69/€0.79

Gunstar Hero – Regularly $2.99, Sale price $0.99/£0.69/€0.79

Chu Chu Rocket – Regularly $2.99, Sale price $0.99/£0.69/€0.79

Chu Chu Rocket HD – Regularly $4.99, Sale price $0.99/£0.69/€0.79

Super Monkey Ball – Regularly $2.99, Sale price $0.99/£0.69/€0.79

Super Monkey Ball 2 – Regularly $2.99, Sale price $0.99/£0.69/€0.79

Super Monkey Ball 2: Sakura Edition for iPad – Regularly $4.99, Sale price $0.99/£0.69/€0.79

Streets of Rage 2 – Regularly $2.99, Sale price $0.99/£0.69/€0.79

Streets of Rage 3 – Regularly $2.99, Sale price $0.99/£0.69/€0.79

Virtua Fighter 2 – Regularly $1.99, Sale price $0.99/£0.69/€0.79

Brick People HD – Regularly $2.99, Sale price $0.99/£0.69/€0.79

Brick People – Regularly $1.99, Sale price $0.99/£0.69/€0.79