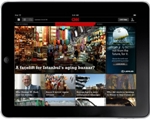 CNN launched the CNN app for iPad today on the apple app store. Apart from the app for the iPad, the iPhone and iTouch versions will now be available for free and the international apps will also get an update of live breaking news video.
The users will be able to read text stories, blog posts, photo galleries, and live or on demand video. The users can also switch between U.S and international news scene, both of which consists of live videos of breaking news and current events. The users in U.S can also listen to the hourly audio news update from CNN Radio.
The CNN application makes it easier for the users to share their thoughts on some news, by adding a comment section, the users can also share text stories, images and videos by their Facebook and twitter accounts.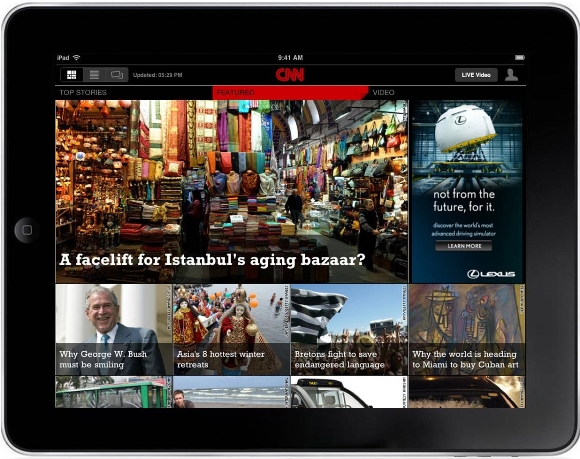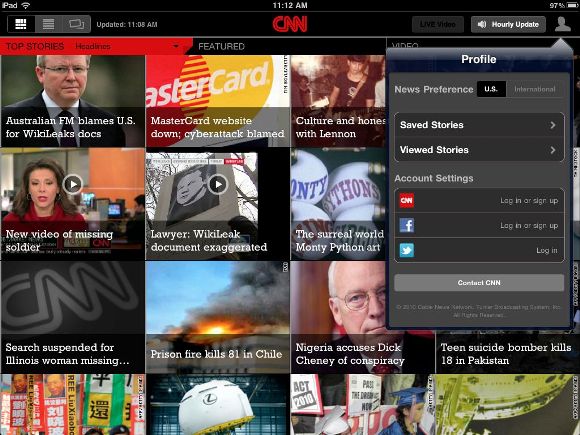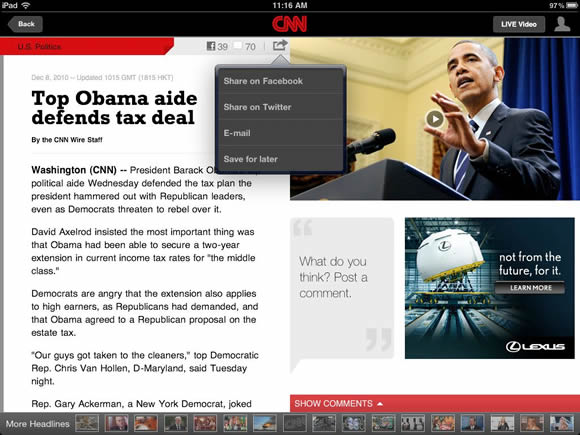 The CNN App for iPad provides users with 3 viewing options: Broadsheet, List view, Slide show, which makes it easy for the users to browse through the news.

Broadsheet, the default view, presents up to 350 of the latest news stories in a grid-format featuring powerful imagery and headlines. Users can dive more deeply into a topic by selecting from any of the headlines or from a variety of topics. In addition, users can access the "Featured" section, which houses editorially-curated stories representing a cross-section of CNN's most enterprising reporting. Finally, Broadsheet's "Video" section includes a premium collection of on-demand video clips from CNN's television networks and CNN.com

List View features a running list of headlines by topic and by category
Slide Show allows users to scroll or swipe through a visual presentation of the day's top headlines
Finally, to keep news fresh, the app will be updated in real-time as important stories break, and users will be notified of breaking news headlines via Push Notification.
You can download this application from http://www.apple.com/itunes/download/