Do you know you can control Android from PC that too without any USB cables or stuff? You can share files from your PC to your Android device wirelessly. Calls, messages and every other notification you get on your mobile device can be mirrored to your PC over a Wi-Fi connection. There are a few reasons you want to control and monitor all your Android activities using a PC.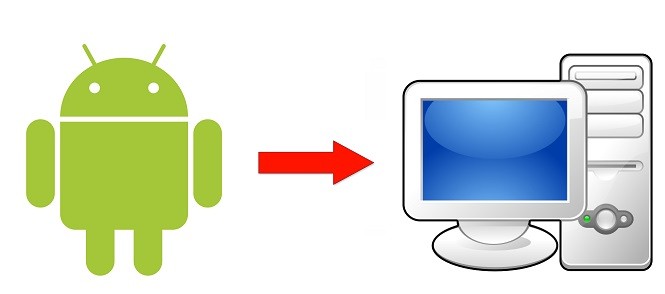 Here's how you can control Android from PC
Prerequisites:
AirDroid is a free tool to control Android from PC enabling you to manage all your smartphone activities on a PC, Mac or on Web browser wirelessly. The app is available for Windows, Mac, Chrome, and Android. Unfortunately, iOS devices iPhone and iPad doesn't support AirDroid. You can transfer files from one device to another as well as share the files to your friends who uses AirDroid.
Install AirDroid on Android
Install AirDroid on your Android device from the above given link and open the app. It will ask you to sign in. Use Facebook, Twitter or Google Plus to login to AirDroid or you can directly create an account using an email. When you use a login, you can use AirDroid over the internet, if you skip the login, you will be limited to the Wi-Fi network.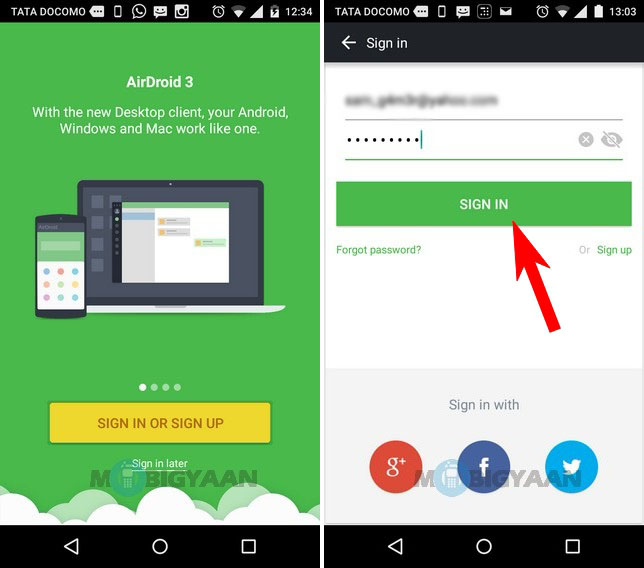 You need to enable the notification access on your Android device to view 'em on your PC. Tap 'Enable' and check the box as shown below. Tap OK. What this does is it'll mirror all the notifications to your PC that you see on your Android device.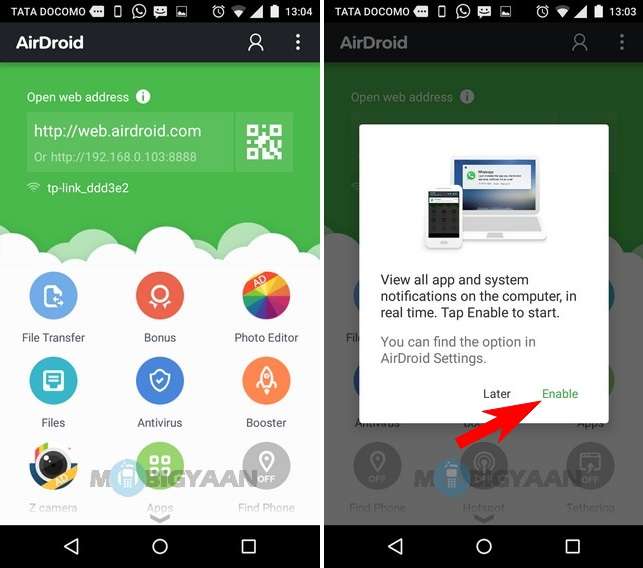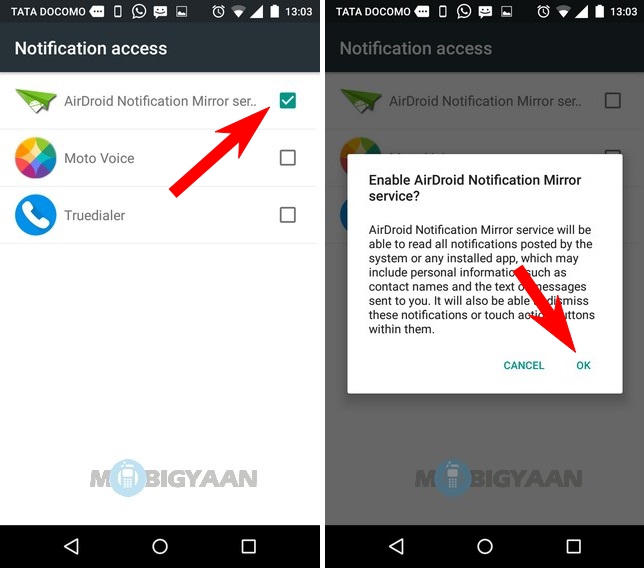 Download AirDroid on PC
Install AirDroid on your PC using the link shared above. Alternately, go to www.airdroid.com, scroll to the bottom and click on Download to get it for Windows PC. If you own a Mac, click on Mac OS X download. Once the AirDroid for PC is downloaded, install it.
AirDroid for Web (Optional)
You can also use AirDroid for web browser, visit web.airdroid.com to use it on web-browser without installing AirDroid on PC. The AirDroid has an interactive user interface that allows you to view photos, play music and videos, browse files, take a screenshot, use the camera from your phone. You can scan the QR code and login to web. Unless you've kept the browser window open, AirDroid for web won't work. Therefore, the desktop app is much better than the web app.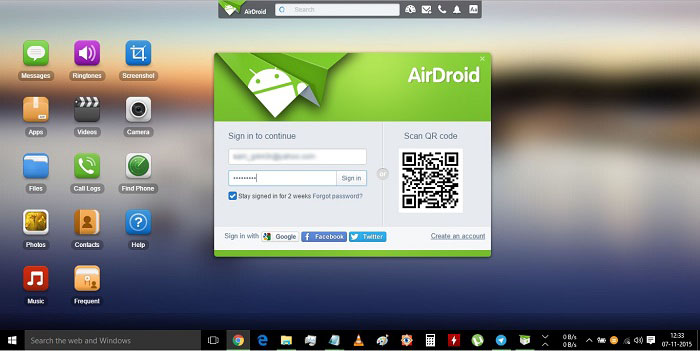 Install AirDroid on PC
Open the downloaded file and quickly Install the tool on the PC as shown. Run AirDroid after installation.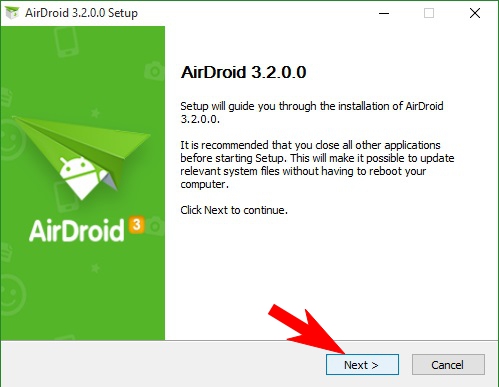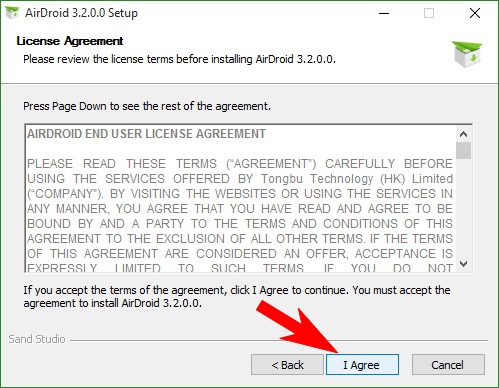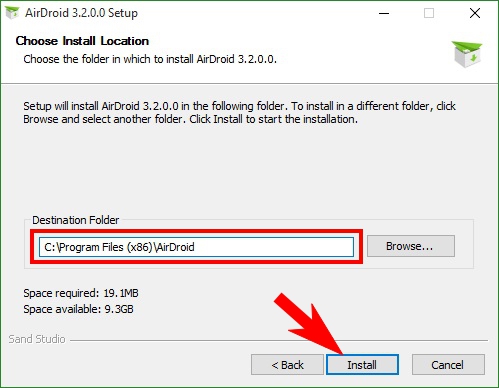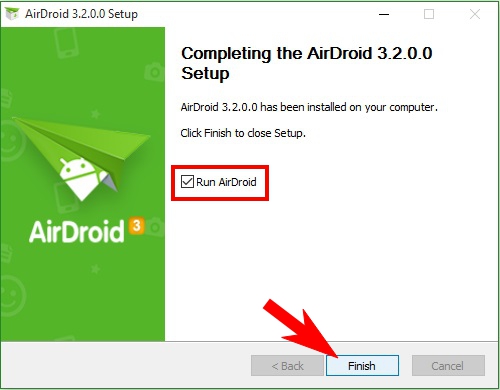 Sign in with the same account that you used to login on AirDroid. This way the Android device will connect automatically to the PC.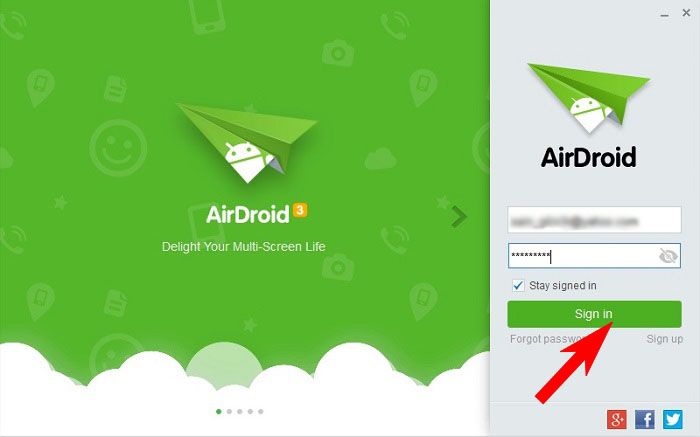 On the bottom right, a popup will be displayed that your device is connected.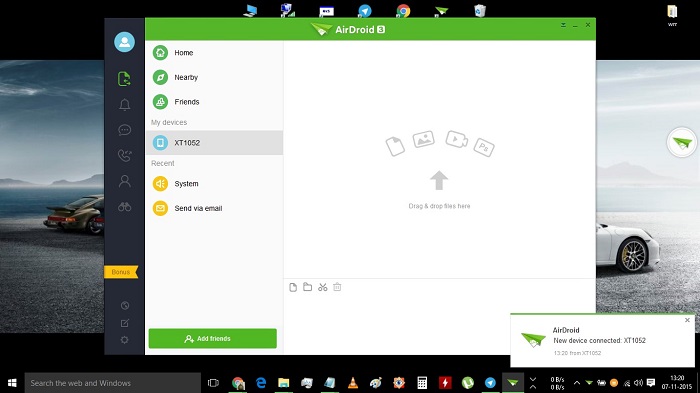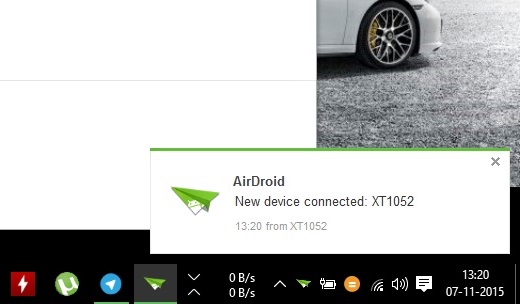 Step 3: Transferring the files wirelessly
You can transfer the files easily just drag and drop photos, videos or any other file that you want to transfer. You can even type messages to your device.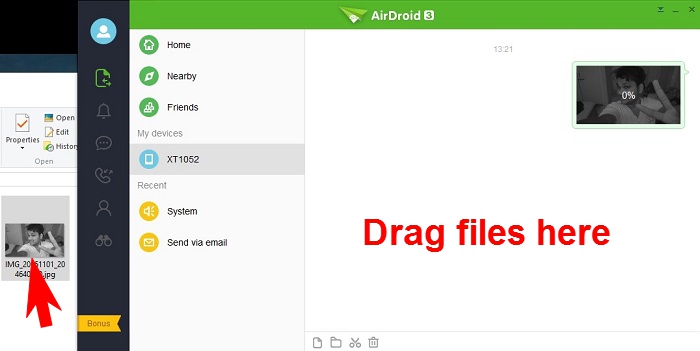 Everything you share will be shown in here. Tap the 'File Transfer' on your Android phone, select AirDroid Desktop and there you can see all your shared files and messages. You'll be notified on your phone about the file transfer.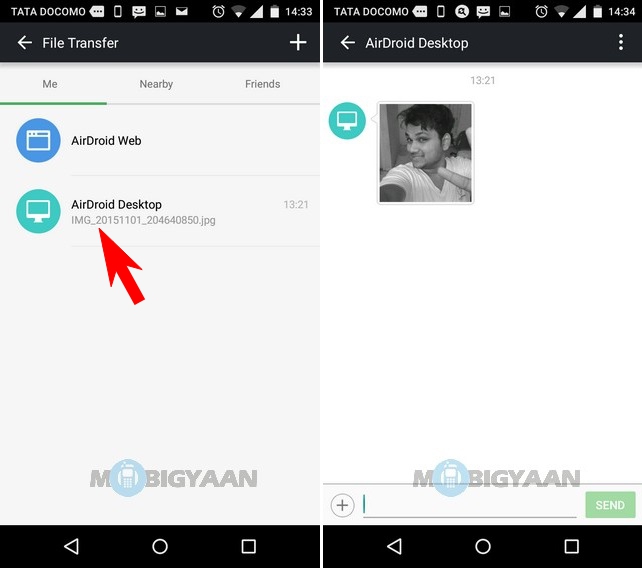 Notification Access
AirDroid can mirror all the notifications to your PC. It can be incoming calls, messages, emails and other app notifications. The best part is you can interact with the notifications and take any actions on 'em. For instance, you can answer, mute or decline a call right from your PC. You can even reply text messages and WhatsApp messages without even touching the phone.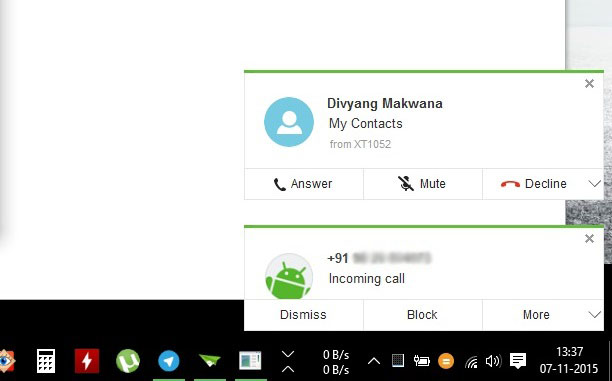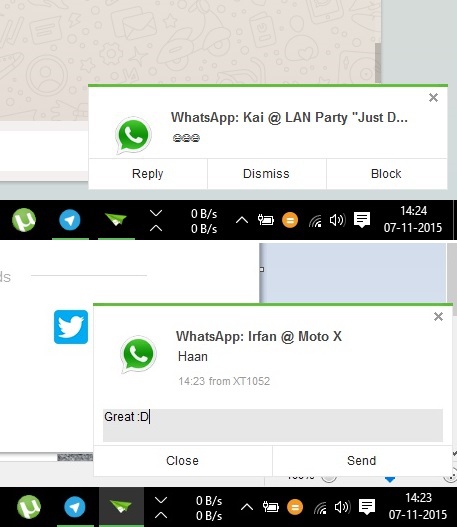 You will be notified for all the notifications that are displayed on your phone. You can also check contacts and SMS from the desktop app.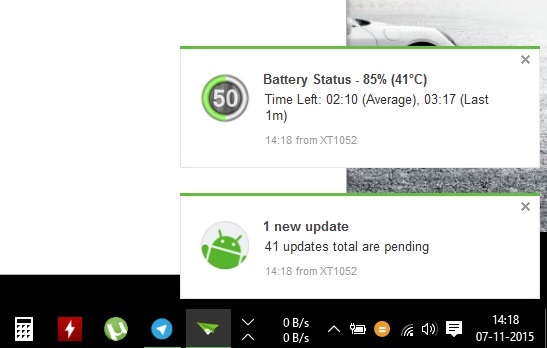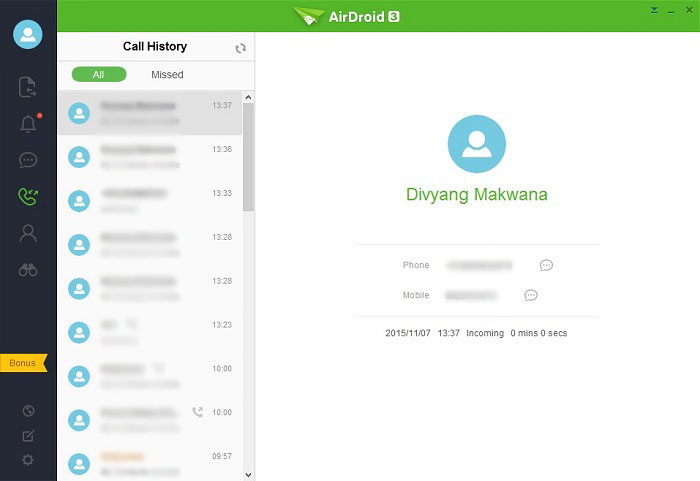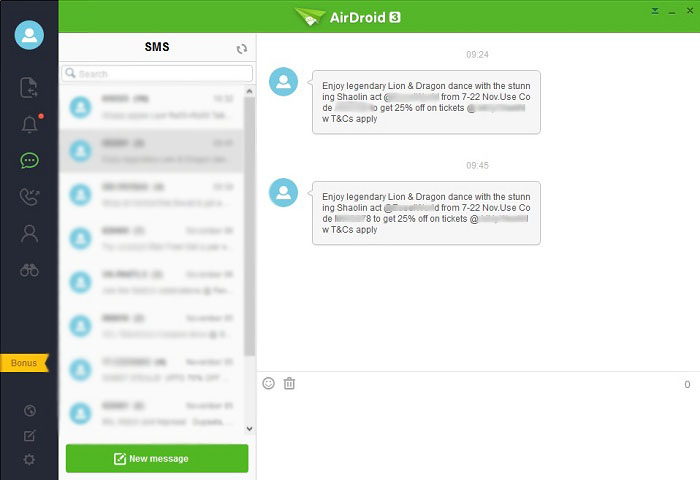 The floating icon can be used to quickly interact with the desktop app. Just by hovering on it, you can see the devices that are connected. Share the files using drag and drop.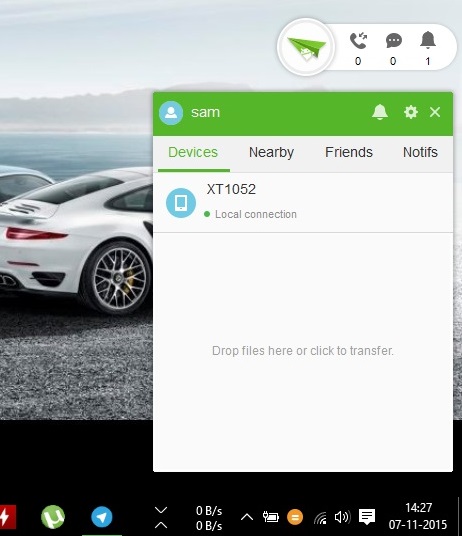 Screen Mirroring on AirDroid (ROOT)
If you are wondering if the whole screen can be viewed on PC then AirDroid does it with root access. You can only use this feature if you have rooted your Android phone. Although, rooting can help you to get many useful features and tweaks to your phone, the same can be harmful to your device if used improperly and void the warranty too.
For rooted users, tap the location shown in the image below and check your phone if you are asked for root access. Grant the permissions and continue to the PC. The whole screen will be mirrored on the PC that can be interact with mouse and keyboard.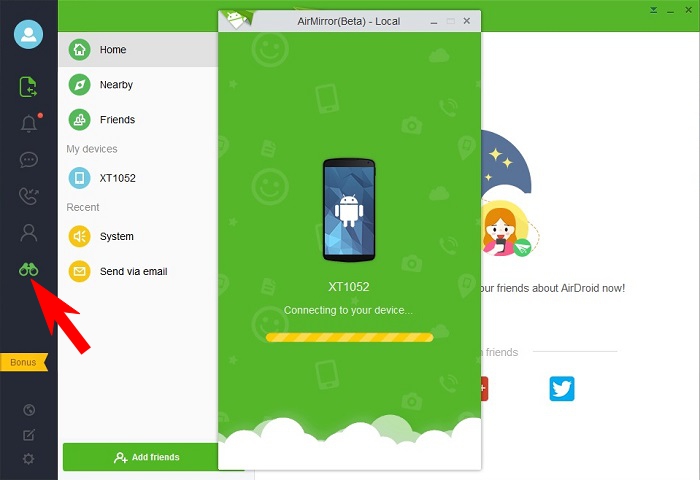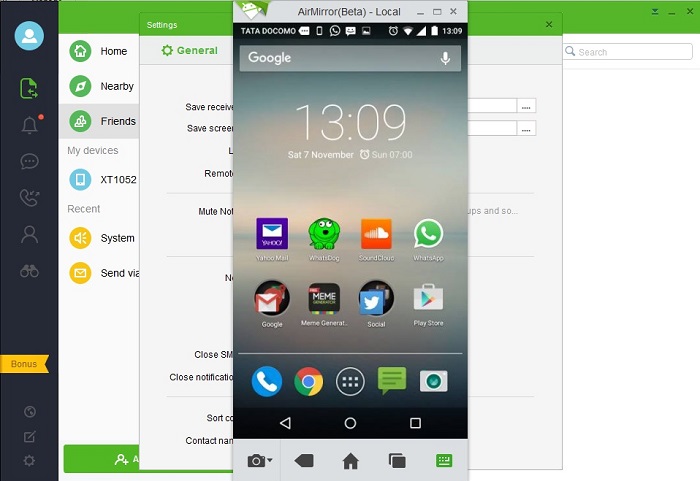 If you have any questions regarding the above guide, do let us know in the comments section below. For more tutorials, check out our How to Guides.