Create Nokia's next ringtone and win $10,000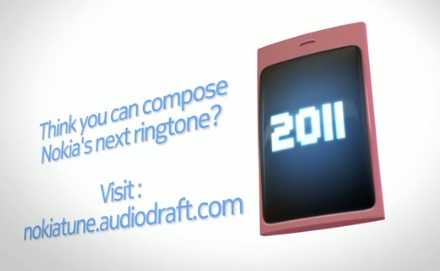 Everybody remembers the good old Nokia ringtone. It is striking and immediately reminds you of the company that has changed the mobile world. Now that same ringtone can win you $10, 000.
Nokia has partnered with AudioDraft and wants you to create the next Nokia ringtone which will be available in Nokia's product lineup for 2012. The ringtone will also be made available for download at the Ovi store for more than a million people to download.
To participate, register yourself over at http://nokiatune.audiodraft.com to submit your entry. Otherwise, you can also just help other people win by casting a vote against your favourite submission. Entries must be submitted by 2nd October 2011.The first five entries that get the most votes will qualify automatically as finalists, where a panel of judges will pick further five entries for the finals and then make the deciding vote on who shall win the top prize of $10,000. Five runner-ups will also have their Nokia Tune available for download from Ovi store and be awarded with $1,000 each.