Remember multiple user accounts on PC and Mac? One of the best features available on Android platform is the user accounts. If you are sharing your Android device with other people then the Android Lollipop provides a feature that will let you create user accounts on Android for your personal use and for each person who uses the device.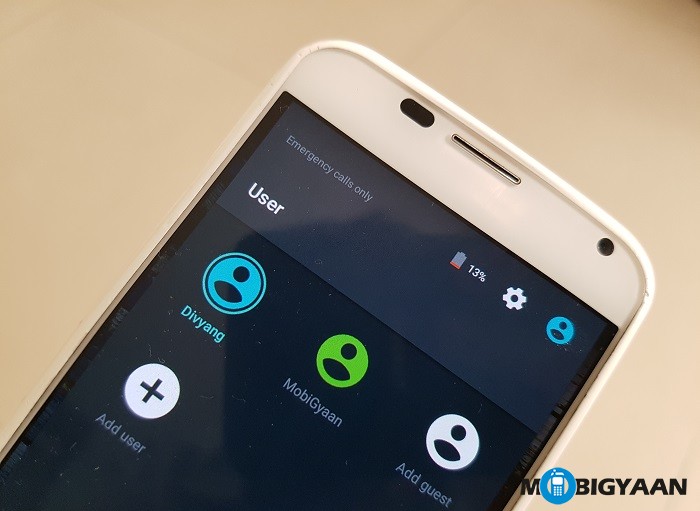 Ideally, Android smartphones aren't the ones that are shared the most but Android tablets are shared among people especially sharing between family members. A tablet is a perfect home entertainment device.
Why creating a new user account is essential?
Because it lets you make your own homescreen and install the set of apps that you like. You can also customize it the way you want without being interfering with other users homescreen and data. Each user account holds its own customization, set of apps and data. If you have been familiar with the user accounts on PC and Mac then you know what I am talking about.
How to create user accounts on Android Lollipop
To create user accounts on Android, follow the below-mentioned steps correctly:
Step 1: Go to Settings -> Users. Open settings on your Android device and enter the User accounts.
Step 2: Touch Add user and press OK. Adding a new user on your device means you are sharing the device with other people. Each user will get their own space and they can customize wallpapers, apps, homescreen, and other visual appearance on the new account.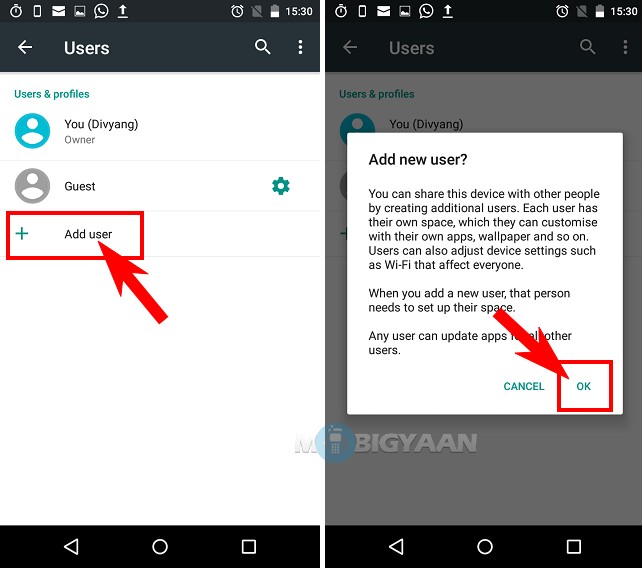 Step 3: Once you add a new user, set up the new account by selecting Set Up Now.
You will be taken on a screen that will show you a new welcome page that you have seen when you powered on the device the very first time i.e. with factory settings. The user account is created as a fresh profile and it has nothing inside.
Add a google account, and continue with your new profile. Everything comes reset on a new user created. You have now the full control over how you want to customize the profile. It's all yours.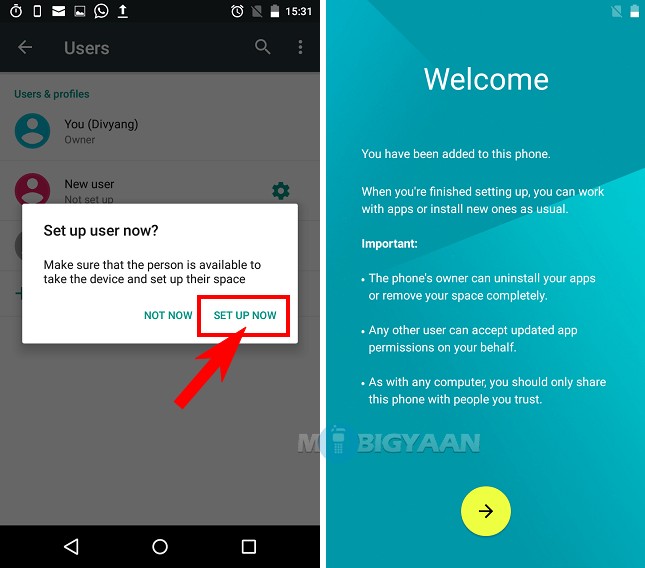 It looks just as a new device from the inside, no apps, no fuss. Nothing! You have the power to customize the interface according to you.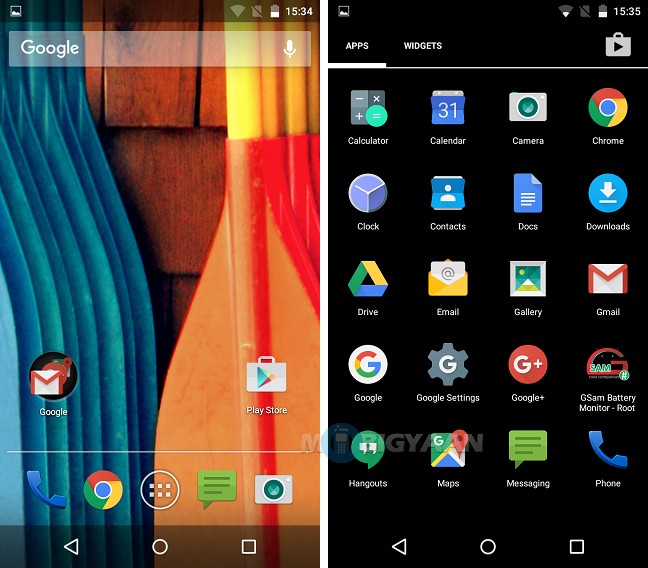 A guest profile is helpful if you hand over your device to someone (can be children) who just wants to play with it for a while. Tap the guest user to access guest account. Guest accounts don't give out personal information.
Changing User Profile Names and Photos
To access user accounts, swipe down from the top notification area, and tap the account icon. Tap More Settings to access the User accounts panel.
Note: Some phones may have a different interface and vary accordingly. If you can't find it, you can always access it from the settings.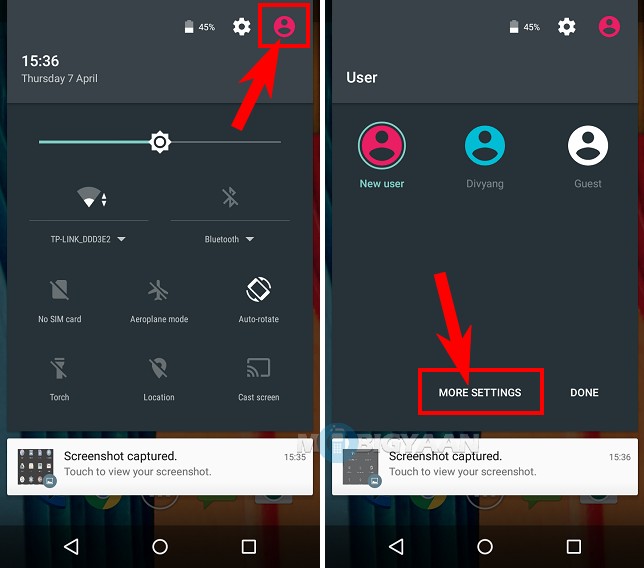 Under Users tab, what you have here is a list of users that are available on your Android device. To rename the User Profile, tap it and change the name. You can also set a photo of the user account just like you do it on your PC or Mac.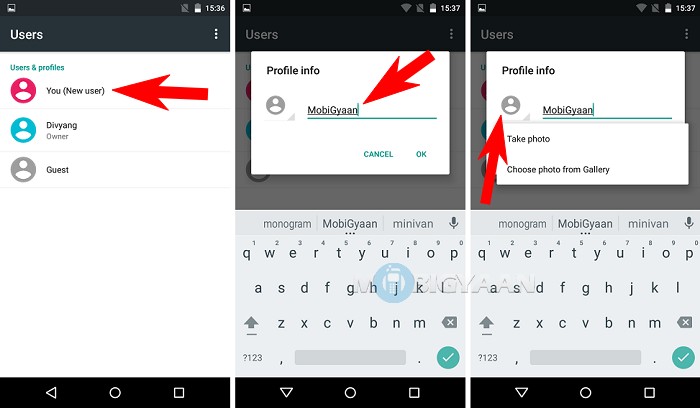 Deleting User Profiles on Android
Deleting the users will remove them from the device completely. All the data will be erased on that particular account. Before you proceed to remove any user accounts, get their consents.
Step 1: To delete the account you made on the device, go to Settings -> Users or access the shortcut from notification panel as shown previously. Touch the three dots button (on some phones it may be a trash icon).
Step 2: Select 'Delete user from this device.'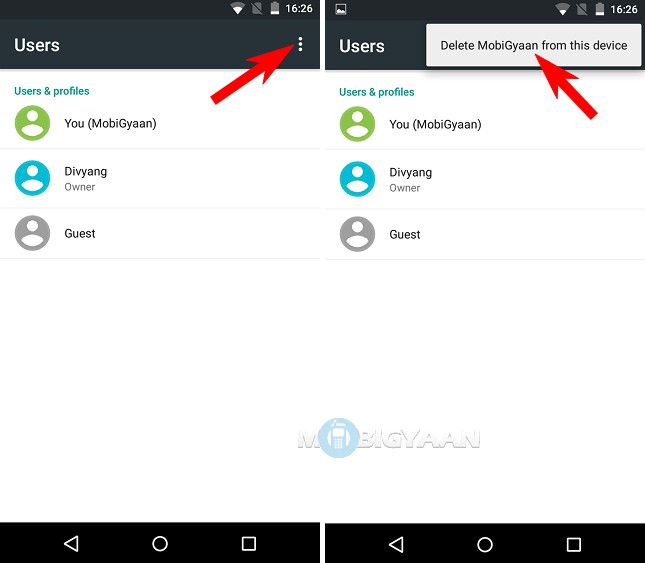 If you are on another user account and you want to delete someone else account, then tap the Settings gear icon and select 'Remove user'. Before deleting the user, make sure you ask them that you are removing the account.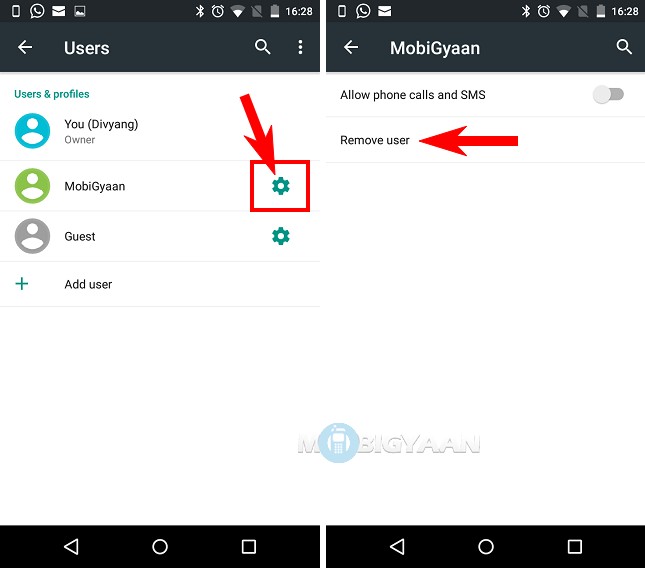 Everything explained above is on a stock Android interface, your device may vary a bit. You can easily figure it out. However, if you have any issues with this tutorial, let us know in the comments. For more tutorials, visit our How-To Guides.